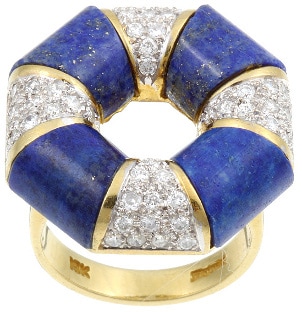 If you love jewelry and fashion but find today's design trends don't inspire your senses, it's time to look at estate jewelry. Interest in vintage decor, accessories and heirlooms has increased in recent years, and this trend includes a renewed appreciation for vintage jewelry from the past. If you've ever seen stunning Art Deco rings or Edwardian brooches at auction, in pictures or in the media and wished you could wear such beautiful jewels, you'll be thrilled to search for these treasures among the varied offerings of estate jewelry. Perhaps you're intrigued by the creativity expressed in antique jewelry but are worried that you don't know how to buy vintage jewelry and get a good deal. This estate jewelry buying guide offers advice on purchasing and appreciating this jewelry to help you make an informed decision.
Buying Estate Jewelry:

Estate jewelry defined: The first fact you need to know about estate jewelry is that any estate piece was previously owned; this is the basic definition of estate jewelry. The term "estate jewelry" refers to the fact that the antique jewelry is often part of the estate of someone who has passed away; in some cases, the previous owner just may have decided to sell his or her own items. Sometimes the terms "estate jewelry," "antique jewelry" and "vintage jewelry" seem to be used interchangeably; however, these terms have different meanings: Estate jewelry pieces are not necessarily old and can include fine and costume jewelry from any era. Antique jewelry is 100 years old or older; some collectors date it to 1920 and older. Vintage jewelry reflects the most distinctive or attractive design elements of a certain period, and the patterns and materials of vintage jewelry are still appealing to many people. Collectible-quality estate jewelry can be considered vintage and includes many antiques.

Estate jewelry for your collection: Some people like to collect jewelry and other items from a certain decade or style period, while others desire a couple of original pieces to personalize their own wardrobes. The high quality of the materials and artisanship means that the value of many estate items will increase with age. Vintage estate rings, bracelets, brooches and other items are pieces of the past. These unique items were not mass-produced or mass-marketed, and some are handmade, one-of-a-kind pieces that were designed for a particular customer, with each precious stone carefully chosen.

A variety of vintage accessories: You'll often see that items offered as estate jewelry include vintage accessories, such as cosmetic cases, cuff links or money clips. These personal implements, usually given as gifts, were made of sterling silver or gold and were as decorative and beautiful as any brooch, earring or ring of the period. If you are interested in these accessories, look for pocket watches, small mirrors, tiny handbags and clutches, lorgnettes (opera glasses), flasks, lighters or pen and pencil sets.

Design elements: Older, especially antique, jewelry not only has a different style from contemporary jewelry; it also features elements of the construction that are seldom used today. The clasps may be different or the prongs may be longer than in designs that are more recent. Sterling silver accessories from the early decades of the 20th century often have a backing of yellow gold that increases the value. There are three particular design elements you should be aware of when shopping for estate jewelry:

Diamond cut: The diamonds in antique estate diamond jewelry often have the traditional old-mine cut or rose cut instead of the modern cuts, such as round brilliant or princess. The settings for these cuts show less of the diamond than settings for modern cuts.

Gold karat: Contemporary jewelry is usually made of 10-, 14- or 18-karat gold, but older jewelry may feature 12-, 22- or 23-karat gold. Newly manufactured jewelry must be at least 10-karat gold to be sold as gold jewelry in the United States, but older estate pieces may be crafted of 9-karat gold.

Size: An estate ring, brooch or bracelet may be an original piece designed for a specific person and, therefore, sized for that person. It is not unusual for a vintage estate ring to fit a very small or very large finger. If you plan to wear the jewelry, be sure to check or ask for the exact dimensions and sizing of the piece.

Caring for estate jewelry: Fine jewelry lasts for generations with gentle care and occasional maintenance. Store each treasure in its own box or jewelry cabinet compartment. Alternatively, you can put it on display in a glass cabinet. Put on your jewelry last when you're getting ready to go out. Take it off first when you return home. Have professional jewelers check the settings occasionally to find loose stones and ask professional jewelers to clean the jewelry if needed.
Tip from Overstock.com:

Estate jewelry is a wonderful resource for collectors who have found a particular design or type to love. Some people collect brooches shaped as butterflies or scarab beetles, beaded with sparkling jewels. Other collectors want a locket, bangle or even an engagement ring or wedding band from a particular era or with a special pattern. You may even consider recycling old estate jewelry by using the parts to make new pieces. A ring is easily turned into a pendant, while gems from ornate earrings can be strung onto a bracelet. Jewelers are happy to help with this process if needed.

Buy Vintage Jewelry
Learn How Overstock.com is Going Green
Back to Guides Directory