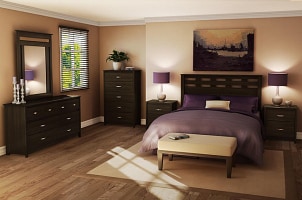 Taking the time to arrange your bedroom furniture to your liking is well worth the effort. Investing in quality bedroom furniture will not only make your bedroom look fabulous, but would you believe it can also make you feel fabulous as well? Your bedroom acts as your sanctuary at the end of the day, and unless it's fully equipped, your mental and physical health could suffer. Without enough needed sleep and relaxation, your body and mind can easily become tired and confused. We've compiled a list of essential bedroom furniture which should help you decide which pieces of furniture to invest in.
5 Essential Pieces of Bedroom Furniture:

The bed. The bed will be the main focus point of your bedroom, and you will probably spend the majority of your shopping time selecting this piece of furniture. A bed that's too small won't give you a comfortable night's sleep, and a bed that's too big will crowd your bedroom and change the atmosphere from restful to unlikable. Once you've picked the right bed, you can enhance your bedroom even further with fun, funky or formal bed sheets, pillows and quilts.

The dresser. Your dresser contributes to a more organized look and feel for your bedroom. This is an important piece of bedroom furniture because it keeps your things stored away and keeps your room looking clean and organized. Many dressers come with mirrors as well, which makes it a classy addition to any bedroom furniture set.

The nightstand. Many people think of a nightstand as unnecessary bedroom furniture even though, in reality, it is a very essential piece of bedroom furniture. Keeping nightly essentials like reading glasses or medication in your nightstand helps to cut down on the number of times you have to get out of bed.

The armoire. When it comes to bedroom furniture, an armoire is a must-have item. Corner armoires help to save you much needed space in your bedroom. They can store any number of things from jewelry to toiletries, clothes, extra blankets and pillows. This piece of bedroom furniture will keep your room orderly and neat.

An accent chair or couch. Studies prove that if you do homework or office work while in bed, your body will associate bedtime with work stress; instead of calming down at bedtime, your body prepares for the onset of stress. Investing in bedroom furniture like accent chairs or couches allows you to do any extra work you might have before bedtime somewhere other than your bed. In addition to helping you get your much needed sleep, your accent chairs and couches add color and fashion to your bedroom.
Additional Items to Consider:

Lamp. While lamps are considered more interior decoration than bedroom furniture, it's still a good idea to invest in a floor or bedside table lamp. This way, you can turn off your ceiling light but still have a light source while you read or knit or do a crossword puzzle. Then, instead of getting out of bed to turn off the lamp when you're ready to sleep, all you have to do is reach over and turn off your lamp.

Bookshelf. Having a bookshelf in your bedroom allows you to keep your favorite novels, DVDs and CDs close by, and it also lets you personalize your bedroom by holding knick-knacks, art work or photographs of favorite friends and family. Investing in a bookshelf lets add your own personal style to your bedroom.

Furniture sets. Many pieces of bedroom furniture items are sold as a set, which means you can get all of these in one place and they will all match! Bedroom furniture sets let you acquire most of your bedroom furniture in one shopping trip.

Buy Bedroom Furniture
Back to Guides Directory