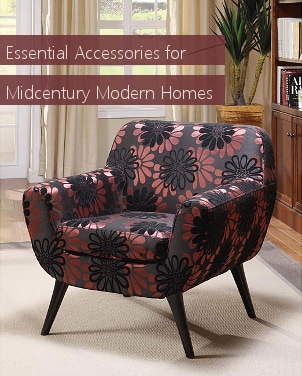 Midcentury modern refers to the time period between 1930 and 1965 when designers and architects began focusing on simple yet creative design. It was during this period that famed architect Frank Lloyd Wright experimented with organic architecture, building some of his most well-known homes and using scenery to inspire innovative designs. Some of the most recognizable furniture was also designed during this time period. From the Eames lounge chair to the slender tulip chair, the midcentury movement produced pieces that are still staples in modern homes. To get the midcentury look in your own home, use simple pieces of furniture combined with these essential decorative accessories.
Midcentury Essentials:

Egg-shaped chair: Midcentury modern furniture favors curved shapes and bright colors, so look for chairs with rounded seats or wings that mimic an egg shape in colors like rusty orange, lime green, or bright red. If you're trying to create a fusion of futuristic modern and midcentury modern style, pick an egg-shaped Eames-style chair with a wood base and leather cushions.

Shag rug: A solid-colored shag rug is a good base layer to build on for midcentury modern style. Since your furniture and accessories will be bright, stick to a cream or grey shag rug. The goal of your area rug when modeling your home after midcentury design should be to make the other decorative accessories stand out, not to detract from them.

Retro wall clock: For an Art Deco vibe that is prominent in most midcentury decor, look for retro clocks that can also be considered art. The starburst clock is an iconic accessory and ideal for completing the look of your midcentury living room, dining room, or bedroom. Look for styles with colorful balls at each hour marker or a sleek chrome version made from unusual materials, like cutlery. A starburst mirror will also give that retro look.

Big lamps and vases: Because midcentury style relies heavily on solid wood furniture and chrome accents, you'll need to add color with items like lamps and vases. Don't be afraid to pair a large porcelain lamp base with an even bigger drum lampshade or place a curvaceous vase right on the center of your media console. Matching these items to a bright chair or throw pillows gives your room the right amount of color while keeping it retro.
What Do You Want to Do Next?

Shop for Shag Rugs
Shop for Decorative Accessories
Shop by Style
See All Guides
Read More Home Guides
Learn More about Home Decor