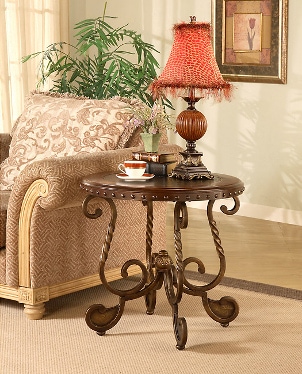 In the world of living room furniture, the sofa and coffee table might be the stars, but your end tables are important parts of the supporting cast. Without end tables, where would you put your lamps? Where would you set your drink? Where would you pile up the last week's worth of newspapers? End tables, also known as console tables, come in many shapes, sizes and styles. Whether you are looking for a traditional end table, round end table or basically any variety, this end table buying guide will show you how to buy end tables that will be just right for your home.
Buying End Tables:

Material vs. style: Besides considering what end tables are made of and what they look like, you'll also want to take into consideration how you will use them. Will you need a drawer in them to hide your remote controls, magazines and other things? Do you want end tables with shelves for books? Keep the function of your end tables or modern coffee tables in mind as you shop.

Solid wood: This is the strongest, most attractive and most expensive material used to build living room end tables. Wood end tables are some of the highest quality available. Some of the most popular choices are oak end tables and cherry end tables.

Veneer-over-composite wood: Depending on the quality of the veneer, this can also make a high-quality end table because of the strength of composite wood. It is generally less expensive than solid wood but is sturdy and, if made right, can be very attractive.

Veneer-over-particle board: This can also look good depending on the veneer used; however, because particle board has less tensile strength than solid wood or composite wood, it may not last as long. It is also the least expensive form of construction. When purchasing end tables made with particle board, you will want to consider them as more of a short-term investment.

A note on wood veneers: Veneer is a thin layer of material applied to cover wood. There are three types of veneers used in the construction of end tables: The best is wood veneer, which is made from thinly sliced hardwood; the next is vinyl veneer, which uses a photographic process to simulate the look of wood; and the third type is printed veneer, which means the look of wood is printed directly onto the board surface. Printed veneer is the most affordable type of veneer used in end tables, but the difference in quality may be noticeable.

Other materials: In addition to these traditional materials, end tables also come in a variety of alternate materials. Alternate materials are often used in more contemporary styles. These include rattan, wicker, leather, metal and glass end tables. In choosing an end table material, style is often as much of a deciding factor as quality or durability.
Styles of End Tables:

Variety: End tables come in many styles and in many variations of traditional and contemporary living room furniture. While end tables are available in a seemingly never-ending number of styles, there are some main styles you may wish to consider.

Antique-style end tables: An old-world appearance means that these end tables would fit into a home with Victorian or Edwardian design influences.

Art Nouveau end tables: These end tables are rich in ornate curves and swirls, lending an old European feeling to a room.

Mission end tables: With their straight lines and a focus on function, sturdiness and natural beauty, mission end tables are right at home in an arts-and-crafts style home.

Art Deco end tables: Art Deco end tables feature simple, geometric lines and a vintage flair.

Shaker end tables: In the subdued Shaker style, these end tables offer a comfortable, country feel.

Modern end tables: For the home with a contemporary look, modern end tables offer clean, well-defined lines.

Handcrafted end tables: For the eclectic home, a handcrafted end table will add the right touch.

Buy End Tables
Back to Guides Directory