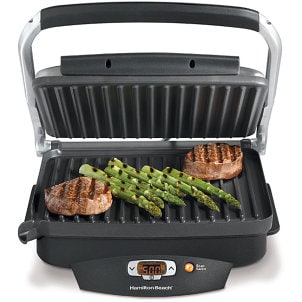 If you live in an area with harsh winters or stifling summers, or if you just do not have the time to devote to maintaining a full-size grill, then an indoor electric grill might be the best way for you to cook delicious hamburgers, scrumptious seafood and tender vegetables on a grill. Electric grills are smaller and more versatile than their outdoor counterparts, and you can quickly prepare your favorite foods in the comfort of your kitchen.
Choosing an Electric Grill:

Types: Most electric grills consist of a flat surface that cooks foods on one side at a time, just like a traditional grill. Some electric grills have two surfaces that cook both sides of your food simultaneously, cutting cooking time in half, while a hybrid option combines the two styles to allow you to cook with one large cooking surface or fold it to access two cooking surfaces.

Features: All indoor electric grills feature a nonstick cooking surface to make cleanup a snap, as well as allow you to cook without the addition of unhealthy oils and fats. All electric grills feature a plug-in heating element that warms the cooking surface, and most allow you to adjust the cooking temperature of the surface. Additional features, such as removable grill plates, alternative cooking surfaces, fat-draining designs, separate grease traps, bun warmers or vegetable steamer trays, are offered on some models.

Uses: You can use your electric grill to cook anything you would cook on a traditional grill. Meats, vegetables, grilled pizzas and breads are just a few of the options you have. If your grill features alternative cooking surfaces, such as a griddle or sandwich maker, you can use it to make pancakes, omelets, paninis, stir-fry dishes or eggs.

Considerations: When you are trying to decide on an electric grill model, consider your particular needs. If you have a large family, select a grill that offers a large surface area so you can cook for everyone at one time. If you live alone or cook primarily for two, a smaller model will save you money and counter space. While some features fall into the luxury category, removable grill plates are a must-have for easy cleanup.

Non-food uses: If you have small children, consider buying a model with a flat griddle surface and an adjustable temperature setting. You can create beautiful stained-glass art projects by placing foil over the cooking surface (set to low), topping that with paper and allowing your kids to color with crayons.

Buy Electric Grills
Back to Guides Directory