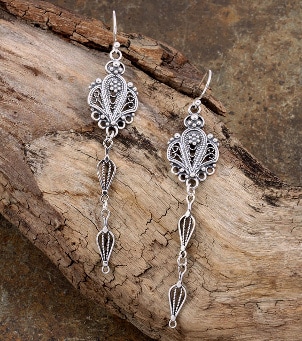 Just what is a chandelier earring? What classifies a stud earring? To choose the best jewelry for your collection, it helps to know how to define each of the different styles. Whether you need a cute and simple pair of earrings to wear every day or you want an extensive jewelry collection that gives you almost endless options, our information about earrings is the perfect place to get tips before shopping. This glossary answers questions and describes the important elements of popular earring styles.
Common Earring Terms:

Briolette: In this decorative cut, a pear-shaped gemstone or glass bead is finished with triangular facets. Briolettes reflect light, look delicate and are found in many pretty gemstone earrings and necklaces.

Chandelier: Multiple stones dangle from long earring frames to form these unique designs. Resembling the light fixtures of the same name, chandelier earrings have multiple tiers; the gentle movement of swinging gems creates a lot of light-reflecting sparkle.

Drop: Basically, any earring that dangles below the earlobe can be called a drop earring; they are also called dangling earrings. These earrings may have large or small gemstones or metal sculptures.

Hoop: Self descriptive, a hoop earring has an enclosed loop as its main feature. The loop can be round or oval, large or small.

Huggie: Meant to fit close to the ear, huggies are hinged hoops with front and back sections. The post on the front section fits into the back band, which snaps shut.

J hoop: A variation on the hoop earring, the J hoop has a long, oval band that bends under the ear to form an open hoop.

Jacket: Earring jackets are decorative cups that frame stud earrings. Most often used with diamond solitaire earrings, jackets have a hole for the post.

Stud: This earring displays a single gemstone, pearl or metallic ball on a straight post. It sits on the lobe and does not fall below the ear.

Threader: These long earrings have a front section and an extra-long straight post that dangles behind the ear and is part of the artistic design. The sections are usually connected by a chain that threads through the ear piercing.

Buy Earrings
Back to Guides Directory