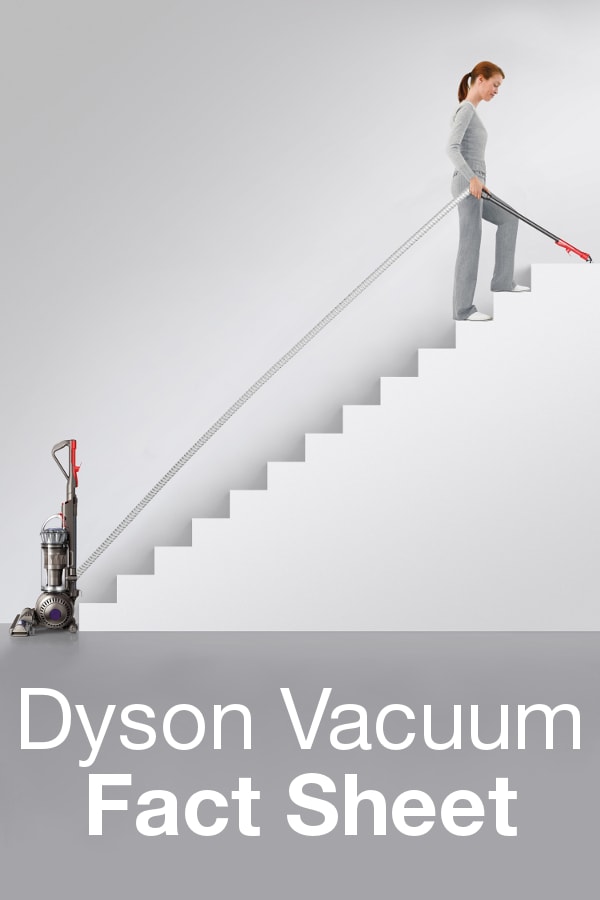 SHOP THE DYSON STORE NOW >>
It's no coincidence that Dyson vacuum cleaners are one of the most popular brands on the market. The Dyson company believes in the simple principle that things should work properly. Dyson vacuum cleaners are the result of that dedication. Dyson vacuum cleaners are unsurpassed in quality design, innovative features and ease of use. Here are some facts about Dyson vacuums you may not know.
Dyson Vacuum Cleaner Facts:

Dyson's upright and canister vacuums are certified asthma and allergy friendly. To earn this certification from the Asthma and Allergy Foundation of America, Dyson vacuums have passed many rigorous tests. Dyson even has its own in-house microbiology lab to study bacteria, pollen, dust mites, and other allergens. The scientists there have found that the only way to keep allergens under control is to remove them from a home. They've worked to ensure that Dyson vacuums thoroughly pick up the dust from the floor with a powerful brush bar, keep it in the vacuum with cyclones, and use filters and seals that won't allow the dust back into the air.

Dyson uses a HEPA (High Efficiency Particulate Air) filtration system. The HEPA filter traps 99.9 percent of airborne particles as small as 0.3 microns in size, and it will last the lifetime of the vacuum. But the HEPA filter on its own isn't enough. The strong material that seals the dust in after it passed through the filter makes Dyson vacuums different from other vacuums that have HEPA filters.

Dyson vacuums don't use bags. In other vacuum cleaners, the bags act as the filtration system, which doesn't allow for full entrapment of airborne particles, therefore expelling unclean air back out. Dyson vacuums have sealed containers to catch dust, so the particles don't go back into the air. Additionally, you don't have to buy expensive replacement bags, so you save money over time.

Dyson technology is protected by more than 1,900 patents. Other vacuum cleaners may look like a Dyson, but they simply don't contain the same technology inside. And it's that technology that leads to Dyson's efficient performance.

Currently, the most powerful Dyson upright is the DC65. In test after test, the DC65 picks up more dust than other upright vacuum cleaners. And it's designed so none of that dust that gets picked up goes back out into the air. Dust is locked inside the airtight bin, so there are fewer allergens in your home.

Along with the uprights, Dyson offers cordless, canister, and handheld vacuums. These powerful units offer the updated technology of a Dyson but in a convenient, easy-to-store design. You can get tips on choosing the right type for your home with our guide on buying Dyson vacuums.

Shop Dyson Vacuum Cleaners
Shop Dyson Floor Care Tools
Shop the Dyson Store
See All Guides
Read More Home Guides
Learn More about Housewares
Published September 14, 2009
Updated March 13, 2015