Duvets vs. Down Comforters
by Barbara T. Biehler

A new duvet or down comforter is a fast, easy way to change the look of your bedroom decor. These bed coverings can also keep you warm and toasty on a cold winter's night. Traditionally, the word duvet, a French word meaning "down," was interchangeable with down comforter. Today, however, when most Americans say the word duvet, they are actually referring to a duvet cover. Duvet covers are made to slip over many different types of comforters, whereas a down comforter can be used as a standalone bed covering. Take a look at this article to learn more about the differences between duvets and down comforters.
Duvets and Down Comforters: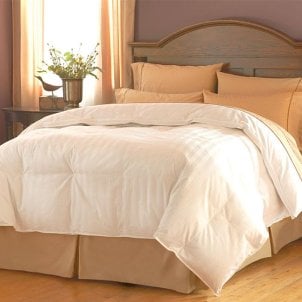 Shop Down Comforters ▸
Sizes:

Most down comforters are designed to fall three-quarters of the way over the sides of beds, while traditional duvets are slightly smaller in dimension and may not fall over the sides. Although duvet covers are made to slip over many down comforters, some duvet covers are actually smaller in total area than a down comforter intended for a bed of the same size. Before purchasing a duvet cover, measure your comforter carefully to be sure it will fit inside the cover.

Styles:

Most down comforters are constructed with outer cotton shells in various thread counts. Down comforters typically come in solid colors. Duvet covers are also constructed in cotton fabrics in various thread counts, but they come in a much wider variety of fabric styles, colors and patterns, including stripes, paisleys and other colorful prints. They generally are open on one end and feature ties, zippers or buttons that keep them closed. When changing the look of your bedroom, it is generally less expensive to buy a new duvet cover than to purchase a new down comforter.

Comfort:

The outer covering of a duvet cover can feel similar to that of a down comforter. High thread counts in luxurious cotton fabrics, such as Egyptian cotton, can make duvet covers feel soft, warm and inviting, and particularly so when filled with a high-quality down comforter made with the same fabric. A duvet cover does have a disadvantage over a down comforter, however, because the comforter that fills the inside of the duvet cover can slip during the night. The feather filling of a down comforter is usually manufactured in a baffle-box design, which holds the feathers in specific spaces and keeps them securely in place while you sleep.