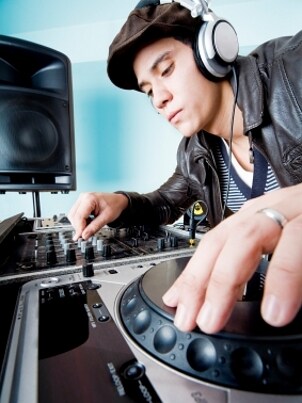 Whether you're a budding novice DJ or a polished veteran, you can save time and headaches by going through a DJ equipment checklist before heading out to a club, party or event. Use your checklist to check and double-check that all of your DJ equipment is working and packed before you head out. Here is a sample checklist to help you gather the right audio equipment, lighting equipment and peripheral devices.
DJ Equipment Necessities:

Headphones: Some high-quality DJ headphones are your link to your entire audio setup. They allow you to check your levels and preview volume and other effects before sending them out to your speakers. Headphones with swiveling cans can be easier to hold to just one ear at a time.

Turntable: If you're using digital or analog turntables with an audio mixer, you'll want to make sure you've securely packed it, and spare needles for backup, with the rest of your DJ equipment.

Lighting and effects: Lighting and other visuals are part of the atmosphere that you need to create as a DJ. Make sure you have your moving LEDs, fog machines and lasers, along with any connector cables required to synchronize them with your audio equipment. This DJ equipment is especially fragile, so make sure you have the proper carrying cases to protect it.

Mixer, amps and speakers: These are your basic DJ equipment essentials. You'll need an audio mixer to control channels, audio levels and your various input devices. Make sure your amp and speakers are well matched. You don't want to blow out your speakers or overheat your amplifier.

Laptop: A lot of audio functions can be combined with a good laptop and the proper audio software. Be sure your laptop has the connection ports required by your other DJ equipment.

MP3 player: Either as a backup or as your primary audio source, an MP3 player is a compact, essential piece of DJ equipment.

Connector cables: Power cables, data cables, extension cords and tie-downs will help you pull everything together. Power adapters and power strips are also great, since you don't know what your outlet access will be like.

Microphone: A wireless microphone is good for vocals, but it is also good for announcements if you're at a group event where you are not the MC. A basic microphone is just one of those DJ equipment basics.

Buy DJ Equipment
Back to Guides Directory