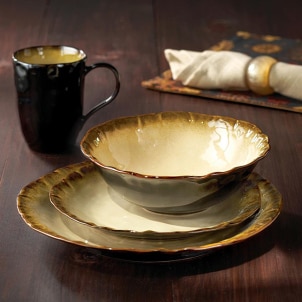 When it comes to dining, presentation is everything. The right dinnerware is more than just beautiful; it also gracefully complements the different foods you enjoy and lends added importance to your home dining experience. This dinnerware buying guide from Overstock.com explains your options in formality and materials and how to care for your new dinnerware.
Buying Dinnerware:

General buying tips: You generally want your dinnerware to have eight to 12 place settings. That way, you always have enough for visiting family or dinner parties. Many people like having both formal dinnerware for special occasions and casual dinnerware for everyday use. If you feel unsure about what to style or pattern to choose in formal dinnerware, a simple design in ivory or white is a tasteful and versatile choice. The range of colors and designs in casual dinnerware is almost unlimited, so you can get as creative as you want. Some people enjoy buying two similar sets of dinnerware in complementary colors so they can mix and match.

Formal dinnerware pieces: Formal dinnerware is often called fine china, regardless of its material. Formal dinnerware settings typically include everything you need to set a welcoming table. A basic five-piece place setting of formal dinnerware includes dinner plate, salad plate, soup bowl, cup and saucer. Bigger formal sets may also include bread plates, dessert plates and matching serveware items, such as a teapot or serving platter. Fine china sets are commonly sold as service for four or service for eight. Most china dinnerware should be hand-washed and dried. Check the manufacturer's instructions to be sure before you buy.

Casual dinnerware pieces: Most casual dinnerware is sold as service for four. The basic set has 16 pieces and includes four dinner plates, four salad plates, four glasses and four bowls. Some 16-piece sets exchange mugs for the glasses. A 20-piece set includes saucers. Larger sets, such as a 30-piece or 45-piece set, may provide service for six, eight or 12, or they may include extra pieces, such as a second small bowl or serveware.

Dinnerware materials: Pottery dinnerware is clay that is fired at low temperatures. Stoneware dinnerware is clay that is fired at a high temperature to create a dense and scratch-resistant material. Pottery and stoneware dinnerware are naturally porous, so they are glazed. Glazing gives the pottery a coating that makes it shiny and waterproof. Pottery and stoneware dinnerware are great for either casual or formal place settings, depending on their color and design or how you decorate the table. Melamine is made of plastic resin and is a popular choice for casual dinnerware. Porcelain is a white variety of stoneware dinnerware that can be brittle or translucent. Bone china is porcelain made with bone ash and refined clay. It is very strong, very white and translucent. Traditionally, the finest formal dinnerware is made of bone china.

Dinnerware care: Always read the manufacturer's labels before putting your dinnerware in the dishwasher or microwave. Also, take care to store your dinnerware properly, especially formal dinnerware. Follow these tips to care for your dinnerware in the dishwasher, microwave and storage.

Caring for Your Dinnerware:

Dishwasher: Casual dinnerware may be dishwasher-safe, but be sure to check the manufacturer's instructions before you put your dinnerware in the dishwasher. All fine china dinnerware should be hand-washed and hand-dried.

Microwave: Be sure to check the manufacturer's instructions on all dinnerware before putting it in your microwave. The instructions may also be imprinted on the bottom of each piece. Never put any piece of dinnerware in a microwave oven if it has metal bands or metallic paint in its design or decoration. It may destroy the microwave oven.

Storage: Store your dinnerware carefully between uses, particularly your formal dinnerware. You can store your formal dinnerware safely in an attractive padded dinnerware storage case and keep it in your cupboard. If you don't wish to use storage cases, you can place a piece of felt between each piece to protect it from scratches. You may also display your formal dinnerware in a beautiful china cabinet as part of your home decor. Casual dishes may be carefully stacked in a cupboard to be on hand for everyday use.

Tip from Overstock.com:

Set a beautiful table with new flatware and glassware to complement your dinnerware. Silverware and gold-plated flatware are elegant options for formal dinners, while stainless steel flatware is great for all occasions. Invest in quality stemware so you can enjoy your wines properly, whether the dinner is formal or casual.

Buy Dinnerware
Back to Guides Directory