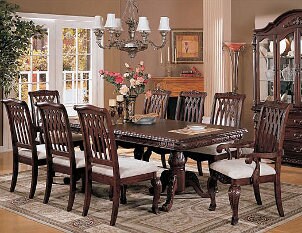 Your dining room is a place where family and friends gather for special occasions. The dining room furniture you choose will show that everyone is welcome in your home. Chances are the dining room furniture you buy now will be the furniture you will have for many years to come. Knowing a few key facts will help you shop intelligently and purchase dining furniture that will meet your needs and last for years.
Dining Tables:

Choose the right size: Before choosing a dining room table, measure your dining room. Remember that you will need space to walk around the table and pull out the chairs. A round table or a bistro table will feel right in a smaller room, while a rectangular table fills a larger room better. Generally, try to leave 48 inches between the edge of the table and the wall or closest piece of furniture.

How Many People Can Sit at the Table?

Four people: 28-inch to 40-inch square or 36-inch to 48-inch round

Four to six people: 28-inch by 46-inch to 40-inch by 58-inch rectangle or 58-inch to 78-inch round

Six to eight people: 36-inch by 60-inch to 48-inch by 72-inch rectangle or oval

Eight to ten people: 36-inch by 80-inch to 48-inch by 92-inch rectangle or 36-inch by 36-inch to 80-inch by 92-inch oval

Ten to twelve people: 36-inch by 96-inch to 48-inch by 108-inch rectangle

Fourteen to sixteen people: 36-inch by 124-inch to 48-inch by 126-inch rectangle

Think about style: To give your home a cohesive feel, choose dining room furniture which reflects the architecture of your house and the style of other rooms in your house. The materials your dining table is made of will affect this, but not all rules are hard and fast. For example, a mahogany table may feel formal, but even though they are made out of wood, an oak dining table or pine dining table will feel casual. The table legs can also change the style. When you think of a metal table, it's often very modern and sleek, but if the legs are curved, it can feel more elegant.
Dining Chairs:

Coordinate with your table: If you purchase your dining chairs separately from your dining table, be sure the sizes work together. Most dining tables are 29 to 30 inches tall, and you want about 12 inches from seat to the top of the table. Look for dining chairs that are 18 to 19 inches tall for standard height tables. A seat width of 20 to 24 inches will be most comfortable, but other width sizes can be stylish if they fit the scale of your table.

Consider the users: Remember to think about who will be sitting in your dining chairs. A narrow chair with a low back won't work if your family or guests are very tall. Heavy dining room chairs will be frustrating for children to pull out from the table.

Choose chair materials: Many dining chairs come with upholstered seats, which are comfortable, but are also likely to be spilled on eventually. If you want a material that can be cleaned easily, consider buying upholstered dining chairs in fabrics such as leather, microsuede, or cotton. Heavier fabrics like velvet look and feel luxurious, but will require more work to clean. Wood chairs can usually be cleaned with commercial furniture polish.
Dining Sets:

Instantly furnish your dining room: Many dining room tables and chairs are sold together as dining sets. This is an easy way to furnish your dining room so you can start using it. It can also save you the trouble of figuring out whether or not the chairs fit the table.

Set your budget: The prices of dining tables, chairs, or dining sets can be influenced by a few factors. First, the materials of the dining table and chairs may affect the price. Hard woods are often the most expensive, but these are quite durable and beautiful. Engineered woods -- particle board or veneered woods -- are often less expensive but can last a long time if cared for correctly. Second, the price can be affected by whether or not you assemble the dining room furniture yourself. Pre-assembled pieces can cost a bit more and may take a little longer to be shipped, but if you don't have the time or patience to assemble furniture, the cost may be worth it to you. Remember that you will probably have your dining room furniture for many years. Choosing the style and size you like now will matter years from now, long after you've forgotten the price.

Buy Dining Room Furniture
Back to Guides Directory