Dining Chairs Buying Guide
by Staff Writer
Your dining table is the focus of your dining room and ties all of your dining room furniture together. Although your dining chairs will not be the main attraction of your room, they will be the key to a successful dining experience. If your dining room chairs are uncomfortable, your dinner parties may be, also. Your chairs will need to complement your other dining room furniture while creating just the right seating for every holiday party. Let us help you buy dining chairs that will fit your room, your table and your lifestyle while still being comfortable and stylish.
Buying Dining Chairs: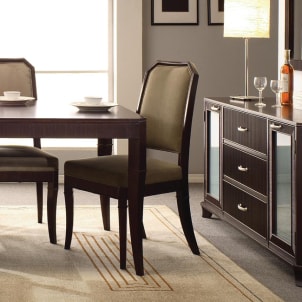 Shop Dining Chairs ▸
Finding a perfect fit

The first step in buying dining room chairs is measuring your dining space. As you measure the dimensions of your room, consider the shape of your room. The shape of your dining area can greatly affect the size and style of the chairs. Remember to measure your table and other dining furniture as well. You'll want diners to have enough space to move around the table and the chairs. Include 18 to 24 inches of space away from the table to sit down and scoot chairs up to the table. Leave 24 to 30 inches of space between chairs and make room for 4 to 5 feet of space between the table and the walls. As you browse through dining furniture, take a look at the seat dimensions. The depth of the chair seat may affect how much space is left between the furniture and the walls.

Seat height and width

The height of the seats will determine how well your chairs fit. If you already have a table, measure from the underside of the table to the floor to see how much clearance you have. The average table measures 28 to 30 inches with table aprons (the rail that runs between the legs to support the table top) about 25 inches from the floor. Generally, your dining chairs will fit just fine beneath your table. Complications occur when you purchase dining chairs with arms. Many people prefer to be able to push a chair under the table without the arms hitting the table apron. Measure your table and calculate how much clearance you will need for arm chairs before shopping for dining furniture.

Wood dining chairs

Most dining room chairs are made from wood. Wood is naturally elegant and matches most dining room decor. You can choose from many different chair styles. For a classic style, consider Windsor chairs. These chairs feature turned and angled legs, turned stretchers between legs and a carved saddle seat. Slat-back chairs have one or more wide, flat vertical slat supports on the back and straight legs. The Parsons dining chair is also a stylish option. This chair is tall and has an upholstered rectangular seat and back. When you are shopping for wood dining chairs, look for solid wood construction. Plywood is a flimsy material for chairs that has a tendency to warp. Some wood chairs may have veneers as well as solid wood. Veneers are a less expensive way to include expensive woods on furniture. Veneers and inlays can be very beautiful and give your dining room an expensive look and feel.

Metal and plastic dining chairs

When you picture metal dining chairs, you probably are picturing a retro-style dining area. If this is the style you are going for in your home, metal-plastic combination dining chairs fit in well. Look for metal or plastic chairs with a sturdy design that is still comfortable. Metal chairs should be light enough to move without sacrificing sturdiness. Some metal chairs are just as elegant as wooden dining chair. Steel and wrought-iron dining chairs have designs that range from fancy to simplistic. Usually, these chairs are upholstered to make them more comfortable. Many wrought-iron dining chairs are made to accompany matching dining tables, and they look quite elegant together. Be careful to balance style with comfort. If you love the look of a metal or plastic dining chair, ask yourself if that style will be comfortable for sitting during dinner. Will it invite guests to linger after dessert? Or will it discourage them from having dessert all together?

Dining chair upholstery fabrics

Most upholstery fabrics you will find are cotton-polyester blends or leather, but they are not the only upholstery fabrics available. Cotton-polyester blends combine the best of both fabrics -- the comfort and softness of cotton with the durability and easy cleaning of the polyester. Delicate velvet and silk upholstery fabrics are also available. Tightly woven fabrics and blends wear better and last longer than loose-weave fabrics. Microfiber is a good material for households with kids because it is easy to care for and resists stains better than most other fabrics. Leather is a favorite upholstery material because it is very durable and is easy to care for, and leather softens and improves over time.
Tips from Overstock™
Chairs of all types can be made more comfortable and stylish with chair pads and seat cushions. Although seat cushions are a casual addition to the breakfast nook, kitchen table and dining set, they can really add a dash of style to your space.