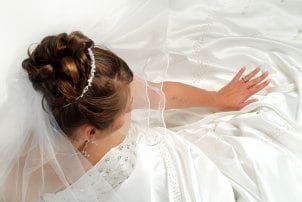 You may want a large wedding near your home or you may want a small destination wedding with your nearest and dearest. Many couples opt for the latter option because they are in love with a particular destination. One possibly stressful part of a destination wedding is packing for it. Having a checklist will make packing go more smoothly, so you can focus on wedding planning. Take a look below for a destination wedding checklist.
Destination Wedding Essentials:

Wedding attire: The most important thing to include on a destination wedding luggage checklist is your wedding attire. Because many wedding dresses are large and have a lot of detail, they can be hard to pack for a flight. Fold your dress into a box and place tissue paper between the layers. Make sure the bodice is facing up when you close the box. The same goes for the groom's suit. In your carry-on luggage, pack your wedding jewelry, your shoes and any other important components of your wedding attire.

Wedding accessories: There are certain wedding accessories that you may want to take in your luggage rather than trying to purchase them at your wedding's destination. It will make the arrival at your destination less stressful if you pack things like your guest book, the ring pillow, seating cards, programs and any other small items you plan to use in your wedding.

Honeymoon attire: Since a wedding destination usually doubles as your honeymoon locale, it is important to pack your luggage for the honeymoon and any activities that you have planned. Be sure to pack your swim suits, toiletries, shoes, long pants, shirts and shorts.

Essential items: Before you board the plane, make sure your carry-on luggage contains these essential items: marriage license, wedding rings, travel reservations, plane tickets, prescription medicine, passports, identification, money and traveler's checks.

Additional items: For your destination wedding checklist, include all of the bride's wedding toiletries, such as face wash, hair accessories, veil, makeup, lotion and perfume. For the groom, be sure to include a shaving kit and any other necessary toiletries. Additionally, you'll want to pack items like sunscreen, bug spray, sunglasses, hats, motion sickness medicine, bandages, aloe and an antihistamine.

Buy Wedding Planning
Back to Guides Directory