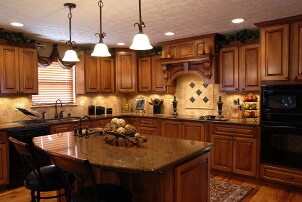 The quality of the appliances that you use in your home can have a significant impact on your quality of life. And having large appliances that last will save you money in the long run. That's why GE large appliances find their way into so many homes. GE appliances have the iconic GE style and offer the latest technology available in large appliances for the home. This guide will give you some ideas for using GE appliances in your home and the benefits that come with them.
Buying GE Appliances:

Cooking: GE kitchen appliances are signature pieces for any home. Start with your cooking area. A GE kitchen range will be energy-efficient and easy to use. Induction ranges heat only the pan and not the stovetop -- just one example of the latest cooking technology that GE appliances take advantage of. And GE appliances, like ovens and warming drawers, provide precise control over heat for any dish. Plus, many of the knobs and grates that come with these kitchen appliances are dishwasher safe.

Laundry: You'll find state-of-the-art washers and dryers among GE appliances for your laundry room. Choose an electric or gas steam dryer for energy-efficient clothes drying. Or pick out a front-loading, high-capacity GE washer that produces less wear on your clothes and provides significant water savings. GE appliances can take the work out of laundry.

Food storage: GE appliances include a large variety of designs when it comes to refrigerators and freezers. Refrigerator styles, such as French door, side-by-side and freezer-drawer fridges, will fit just about any kitchen style and layout. And you'll find energy-efficient GE appliances, like freezers and wine refrigerators, to complete your kitchen collection.

Heating and cooling: GE appliances offer even more energy savings when you use smart solutions, like portable air conditioners and heaters. Heat or cool just one room as a comfortable retreat and spare the energy costs of adjusting the thermostat for the rest of the house. These little GE appliances can save you a bundle over the course of a summer or winter.

Buy GE Appliances
Back to Guides Directory