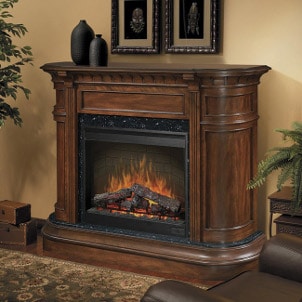 Decorating your fireplace mantel is a subtle way to change your room with every season. To make your fireplace mantel the focal point of a room, pick accessories that make it stand out but don't overwhelm the space. Keep reading for a few ideas to help you decorate your mantel for each season.
Seasonal Decor for Your Mantel:

Spring: Your spring mantel should echo the freshness of budding flowers and spring rain storms. Keep it simple by grouping three white vases of varying heights on one end and placing a single flower bud in each one. The rule of threes is a commonly used design trick because it is more appealing to the eye. On the other side of your mantel, place a large family photo for balance.

Summer: Evoke the feeling of a beach cottage by using items inspired by the sea to decorate your mantel for summer. Pick up three or four black-and-white beach prints in different sizes and frame them with vintage-inspired frames or weathered frames made of driftwood. Layer these photos along one side of your mantel. On the other side, fill a glass apothecary jar with seashells you've collected or purchased. Finish the look by placing a miniature sailboat replica or decorative lighthouse in the middle.

Fall: Fall is always a reminder of changing leaves and fresh school supplies, so try stacking a collection of autumn-hued antique books with a bronze bookend on one end of your fireplace mantel. In the middle, hang a mirror with an ornate frame. To add a soft glow to the room, put wall sconces with a place for a candle on either side of the mirror.

Winter: Get your home ready for holiday parties by decorating the mantel with an elegant winter theme. Try clipping holiday cards from friends and family onto a piece of string and hanging it in front of your mantel with removable hooks. Reuse the apothecary jars that housed seashells in the summer and place a pillar candle in each one. Place fir tree branches along the top of your mantel along with pinecones for a classic winter look.

Buy Decorative Accessories
Back to Guides Directory