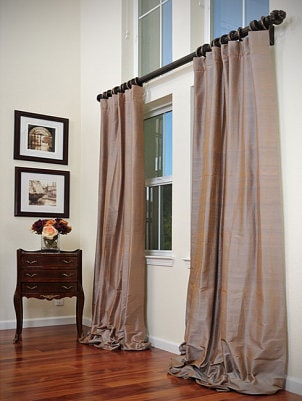 An easy way to warm up any room is to add a decorative touch to the windows. You might appreciate the sophistication that the perfect bamboo shades add to your home, or perhaps you prefer the cozy comfort of thick chenille curtains. Regardless of your personal style, window treatments are a finishing touch in home decor that should not be overlooked.
What You Need to Know:

Types. Window treatments are simply any decorative feature that you add to the windows in a room. Popular curtain styles include everything from simple valances along the top of a window to full-length lined curtains that can block out light and retain heat. Blinds are another type of window treatment that comes in a variety of styles, from mini to standard. Shades are another popular option. Some shades have a simple rolling design, while Roman shades feature gathered panels that allow light into the room.

Materials. Curtains are typically fashioned out of some sort of fabric, depending on the look desired. Sheer, airy panels allow light into the room while thick, heavy fabrics add warmth and insulation. Other options, such as velvet or microsuede, can work in a curtain design. Shades are also crafted in various types of fabric, while blinds can be made from plastic, wood or metal.

Installation. You can easily install most window treatments in under an hour, using basic household tools, such as a drill, level, tape measure and screwdriver. If your selection does not include mounting hardware, you can find the necessary materials at any hardware store.

Decor tips. If you hang a curtain rod on simple brackets, you can change your curtains regularly to reflect the change in seasons and totally alter the look of any room. Select the colors for your window treatments by pulling hues from existing fabrics in the room and repeat any wooden or metal finishes in the window treatment's hardware.

Cost. The most elegant window treatment can come from simply draping a swath of fabric over a decorative rod mounted on simple brackets. On the other hand, you can easily spend hundreds of dollars to decorate a single window. No matter your price range, many options exist for beautiful window treatments.

View All Window Treatments
Back to Guides Directory