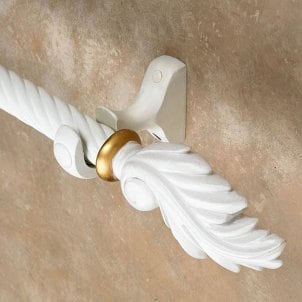 Think you know curtain rods? Think again. This oft-ignored home device has finally found its way into the style spotlight, thanks to the passion and insight of in-the-know hipsters around the globe. Curtain rods are quickly becoming the must-have home item for style experts everywhere. These terrific devices, known in certain circles as curtain poles, are experiencing a renaissance, the likes of which hasn't been seen since shower curtains' chic resurgence in the mid-1970s. Want to give your place a quick boost of style? Set your living room decor on fire with the hottest curtain rod trends. The article below should give you a good idea of what's in and what's out in the curtain pole world.
Hottest Curtain Rod Trends:

What's old is new again: Young, urban adults from Toledo to Tokyo predict that antique curtain rods will soon be hard to beat for sheer style in any home. Antique curtain rods were in style at one point, and now clued-up fashionistas are breathing new life into them. These rods are the perfect way to give your home a fresh yet classic spin. From your living room to your child's bedroom, antique curtain rods can't be beat -- or can they?

A modern twist: Nothing can touch the so-hip-it-hurts style of contemporary curtain rods, better known as "curtemporary" rods. These sleek rods are ramming their way into the hearts of bohemian beatniks above and below the equator. Modern curtain rods are easily the most in-demand home devices available today. They simply radiate fashion and are guaranteed to fill your house, apartment or duplex with celebrity-worthy style.

Telescope it out: Any denizen of the happening home decor universe can tell you that telescoping curtain rods are absolutely essential for genuine window cool. Telescoping curtain rods allow you to size your rods for windows of all lengths and widths, so whether you find yourself in a cozy Manhattan loft or an expansive Seattle lake house, you won't have to worry about finding rods that fit your windows or style.

Metal with it: If there's one curtain rod material that is constantly catching the eyes of top trendsetters, it's metal. From brass to aluminum, metals and alloys are constantly on the lips of those who dictate home decor style. Sure, wood curtain rods are popular as well, but metal curtain rods are miracles of mod.

Buy Curtain Rods
Back to Guides Directory