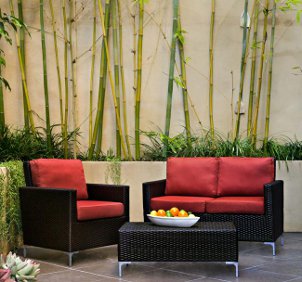 After you've spent hours hunting down the perfect contemporary sofa or chrome chandelier to create a modern haven in your home, it's time to tackle the patio. There's no reason your outdoor living space can't be as sleek as the rest of your home, but there are a few things to look for when shopping for modern patio furniture. Designer Angelo Surmelis' patio furniture for his line, angelo:HOME, is a good place to start since it features low lines and bold colors that speak to your contemporary decorating taste.
Creating a Modern Patio:

Fill a large area with a complete patio set. Whether you have a big outdoor deck or a giant slab of concrete that you're transforming, buying furniture in a set will make it easier to fill. Look for a set made from weather-resistant resin wicker in a dark color that includes two arm chairs, a loveseat and a coffee table. Stick with a solid cushion color, like red, to make the dark base of your furniture pop.

Set up a smaller space with armchairs. If you're trying to create a patio filled with ambiance on a small stoop or apartment balcony, try a set of armchairs from angelo:HOME. Armchairs don't take up a lot of room, but they can make your patio more comfortable to hang out on. To infuse your space with color, look for armchairs with bold striped cushions and a painted wicker base.

Accessorize with an outdoor fireplace. Once you've set up your patio furniture, bring in accessories to make the space seem like more of a room. A portable fireplace is an ideal accessory for a modern patio because it looks futuristic and is easy to store inside with your other contemporary decor when it is not in use. A large chrome and glass fireplace can be used as a backdrop for your complete patio set, while a round pit can be placed between two chairs and then moved off to the side for storage.

Buy Angelo:HOME Furniture
Back to Guides Directory