Servers Buying Guide
by Staff Writer
As the demands of your home or business computer network increase, servers can help you make file-sharing and access much easier. This servers buying guide will help you know what to look for in a reliable server for your network.
Buying a Server: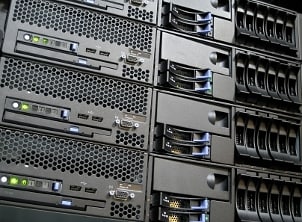 Shop Servers ▸
Definition

Some confusion can often surround servers and server hardware. You can better navigate product descriptions for small business servers and hardware if you know several definitions of the term. The word "server" is used in several ways:
Definitions
The computer hardware to which you connect your network.

The software that runs your network, also known as server applications.

Both the computer hardware and server software together.

Workstation server:

Nearly any of the computers in the network can do double duty as a workstation and a server. Once server application software is loaded onto the workstation computer, it can serve files to the rest of your network. This type of server is really only adequate for small home networks as it's not fast enough to accommodate large numbers of users.

Dedicated server

These computers are specifically designed to act as servers, featuring lots of storage and fast network connections. These have grown in popularity over the past decade as file storage needs have dramatically increased. Many are designed to be expandable by adding additional hard drives to the computer or by networking multiple servers together into larger units. This modular design makes these servers more flexible, allowing you to add memory, processor power or other features as needed. Dedicated servers can have memory capacities exceeding 1 terabyte (TB) and processors that allow large complex files to be used by several persons at once.

Storage

If you anticipate your storage needs will grow, look for a server with open hard-drive bays for adding additional storage capacity. A computer case that's easy to open will make installing new server hardware simpler.

Memory

Your server also uses RAM, just like a regular computer. Adding or upgrading RAM on your server can help boost response time.

RAID configurations

Redundant arrays of inexpensive disks (RAID) configurations allow you to use multiple hard drives to mirror data over several hard disks or distribute data across drives in more efficient ways. If you plan on using RAID configurations, be sure that the server you choose supports those RAID settings.

Connection ports

Your server will probably have an Ethernet port for connecting to your network, but USB ports can be useful for connecting peripheral devices and rapidly accessing data when the network is down.

Cooling systems

Thermal events caused by overheating can cause your server to unexpectedly shut down, causing data losses for numerous users. To help prevent thermal failures, look for small business servers with built-in cooling systems. If you have a large number of servers, you may want to house them in a climate-controlled server room.

Security

Keeping your computer system free from viruses, spyware and other intrusive programs can be a tough job with a server that is networked to several computers and the Internet. Security and utilities software can help you protect and manage the data in your computer system. By installing anti-virus, anti-spyware and firewall programs on your server, you can help prevent malware from installing itself. Other programs can help you manage and monitor user access by other people using the network.
Ideas from Overstock™
You can program each desktop computer on the network to regularly back up its hard drives to the server, creating an archive of essential files. Some utility software packages were designed for this job specifically so that users on your network won't have to remember to do backups themselves.
Use power protection to safeguard your computer systems. Losing power suddenly can cause both physical and data damage to a computer. An uninterruptible power supply (or UPS) is a power source that will keep your desktop computer running long enough to save your work and shut everything down properly. Surge protectors can shield your electronics from power surges as well.