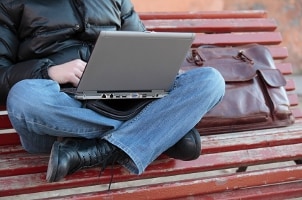 Everyone has a laptop or netbook these days, which means computer bags are essential if you want to protect and carry your laptop wherever you need it. Finding the right computer bags for your lifestyle can be a bit tricky though, since the variety of laptop cases is huge. Fortunately, Overstock.com has assembled this guide to help you know your options. Keep reading to discover computer bags for every lifestyle.
Computer Bags by Lifestyle:

Student: It's hard to be a student without a laptop anymore, and you need quality computer bags to safely transport the machine that stores notes, syllabi, papers, presentations and other important school-related documents and information. The best laptop bag for students is the laptop backpack. These handy computer bags are designed to hold everything you need for a long day at school. Even better, laptop backpacks spread the weight of your computer, textbooks and notebooks evenly across your shoulders to reduce back strain. Laptop messenger bags are another great computer bag option for students. Laptop messenger bags are easy to tote to and from campus and easily hold all your school supplies.

Professional: The best laptop bag for the working professional is the laptop briefcase. These handy laptop cases keep your files, business documents and laptop organized and easily accessible, and they maintain the look of the classic workplace bag. Laptop briefcases are also great carry-ons for when you have to fly for business meetings and conferences. Leather computer bags and backpacks are also appropriate for the office as they look professional while carrying everything you need. If briefcases and leather computer bags aren't your style, try rolling laptop bags; these bags can be made in a variety of materials and styles, but they are great laptop bags for the office because they can carry more, since you pull the weight behind you instead of carrying it, and they don't rumple your suit coat like a backpack.

Adventurer: For the adventurer and frequent traveler, nothing will do but the toughest of laptop bags. Utility computer backpacks are perfect for taking your laptop with you everywhere you go, whether you're going to the local bookstore, backpacking and hitch-hiking around the countryside or visiting an exotic city bistro. Look for computer backpacks with heavy-duty top handles, ergonomic shoulder straps, a sleek look and sturdy construction and stitching. A waterproof liner might also be useful, depending on what kind of adventures you plan to take your laptop on. Any computer bag with a lock is also a good option for the frequent traveler, as is a laptop bag that can be carry-on luggage so you can keep your valuable laptop with you at all times.

Casual traveler: If you are a casual traveler, meaning you want to take your laptop with you to your favorite cafe, the library or a bookstore, you need computer bags that are light, easy to carry and easily accessible. Laptop sleeves are the perfect solution; first, protect your computer by encasing it in a laptop sleeve and then carry it with you in your favorite tote bag or large purse. Special laptop totes are also available. Laptop tote bags look very much like regular tote bags -- including bright colors, buckles and other details -- but they have extra padding to hold your laptop computer and a few other essentials for your trip around town.

Buy Laptop Cases
Back to Guides Directory