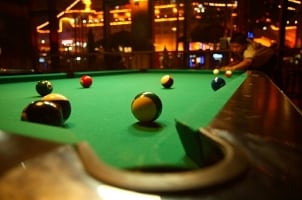 If you're in the market for a billiards table, you have a lot to consider. Size, style and brand are all things you should seriously consider before purchasing one. Of course, one of the most important elements of a billiards table is its surface, so before you set your mind on a certain table, take a look at the guide below. It should help you become better acquainted with Components of Billiards Table Surfaces.
Billiards Table Surfaces:

Slate: The same rock used in flagstone walkways and roofing, slate is a hard rock that can be ground and polished to a long-lasting, level surface. Some billiards tables use a single piece; the better tables use a three-piece bonded surface, which is more resistant to warping. Pool tables for home use generally have 0.75-inch thick slate; tournament-grade slates are 1-inch thick, and these tables cost a little extra.

Non-slate: Artificial slate, called permaslate or slatron (plastic particle-board laminate); plastic honeycomb; medium density fiberboard (MDF); and particle board are also available. These materials are less expensive, lighter in weight than slate, yet they can feel exactly like slate. However, they have a shorter lifespan and there is less chance the surface will stay level. These discount pool tables are good for casual play, children's play and beginners.

Fabric: Every play surface must have a cloth cover, usually called "the felt." The better pool tables feature wool-nylon blends; economy and outdoor tables use synthetic wool or nylon. Traditionally, the felt is green because billiards developed from a lawn game similar to croquet, but new table styles include felts in numerous colors. It's possible to find billiards tables with felt in colors ranging from red to turquoise, so go with a shade that works for your personal design scheme. Of course, you can't go wrong with classic green, but for a more contemporary feel, try a different hue.

Cushions: Attached to the top rail, "K-66 cushions" are required for tournament play, so these are the cushions to look for if you want true tournament feel. As an alternative, molded gum-rubber cushions allow faster rebounds and, because of their durability, are recommended for outdoor tables.

Buy Billiards Tables
Back to Guides Directory