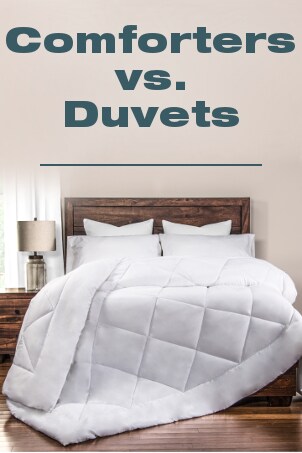 SHOP DOWN BEDDING NOW >>
When you're redecorating a bedroom, the choice between a comforter and a duvet may arise when you're looking at options to outfit your bed. Although these terms sometimes seem to be used as synonyms, they actually refer to different types of bedding. Understanding the differences between comforters and duvets can help you decide which type you want to purchase for your own bedroom.
Comforters and Duvets:

Word origins: The term "comforter" was first used in the 14th century, but it referred to a person or thing that provided comfort. It was not until the early 19th century that the word was used in reference to bedding. The term "duvet" comes from an Old French word that means "down" in reference to the down feathers often used to stuff this type of bedding.

Uses: Comforters are typically a decorative part of a bedding set used in a bedroom. Comforters sets have coordinating separates -- such as the pillow shams or a few throw pillows -- to make decorating easy. In contrast, duvets are usually plain white, and they are meant to be used with a decorative duvet cover. Duvet covers are generally sold separately from the duvets and are best for anyone with a design theme in mind since they require coordinating bed linens.

Filling: This is where the two are very similar. Both duvets and comforters can both be filled with down, down alternatives, synthetic materials, silk, or wool.

Sizes: Both duvets and comforters are sold according to bed size. For example, you might choose between a twin-size and a queen-size comforter. However, comforters are designed to be larger than beds, so they will hang over the sides. Duvets, on the other hand, fit the bed more snugly.

Care instructions: Comforters, like the rest of your bedding, will usually be washable, although some washers aren't large enough for king-size comforters. That means caring for it is fairly easy, but you'll want to check your washers user manual to make sure the comforter you have fits. Duvets can be more challenging if they are made from natural materials. For this reason, it's wise to use a duvet cover that is washable and will protect the duvet from stains, damage, and dirt. Always read the care instructions on your comforter, duvet, or duvet cover before cleaning.

Shop Duvet Covers
Shop Comforter Sets
Shop All Bedding
See All Guides
Read More Bedding Guides
Learn More about Comforters
Published April 29, 2010
Updated November 21, 2014