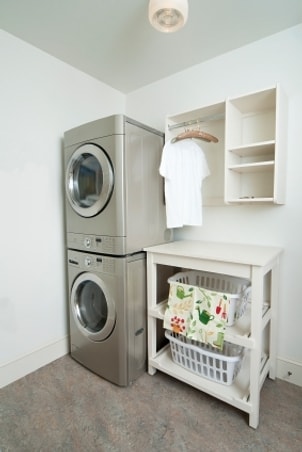 Doing the laundry can be costly, especially if you use a clothes dryer frequently. Even the best clothes dryer uses quite a bit of energy and is not required to display an EnergyGuide label. Fortunately, you can increase the efficiency of your dryer with a few simple tips -- and using a clothesline is not required. Read on for suggestions on saving money and energy when you use your clothes dryer.
Using a Dryer Efficiently:

Keep things clean. One of the easiest ways to cut down on energy use is to clean your washer and dryer frequently. Emptying the lint filter after every load allows the air to circulate in the dryer more easily; it can also prevent your dryer from starting a fire. You should also clean the doors of the washer and dryer every so often to remove dirt, lint and other particles from falling into your loads of laundry. Finally, be sure to vacuum the floor beneath your dryer frequently.

Check the vents. Use a short, straight metal duct to release the exhaust of your vented dryer outside; stretchy vinyl ducts don't allow clear airflow and may be damaged from the dryer's high temperatures. You'll also want to be sure that the vents of your vented dryer are clean and that the exhaust vent fits tightly so that outside air doesn't leak in.

Fill it up. Load your dryer with plenty of clothes, sheets and towels to save energy; however, if you overload your dryer, it can damage the drum and take longer to fully dry. Over-drying clothes can also waste electricity and may even cause your clothes to shrink. Try separating light and heavy items when you wash loads in the dryer; a batch of jeans and towels will take longer to dry than a load of underwear and socks will. Sticking a dry bath towel in the dryer with your wet clothes can help a load dry faster, too.

Don't stop between loads. If you have time, fill your dryer with a wet load immediately after you pull dry clothes out. This allows you to reuse the heat already in your dryer from previous loads. You should also set your dryer to a cool-down cycle if it has one; the dryer blows cool air instead of hot air to finish drying your clothes.

Heat it up. Install your dryer in a heated place in your home. If you have a stackable dryer and washer, place the set in a warm room, too. Keeping a stackable dryer in the garage or a chilly unfinished basement will cause it to work harder and use more energy. The best clothes dryer is one that's stored in a warm, easy-to-clean place.

Buy Washers and Dryers
Back to Guides Directory