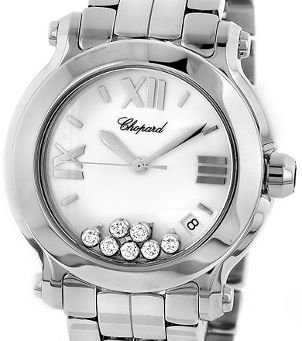 The Chopard Company of Geneva, Switzerland, has been manufacturing luxury watches since 1860. Chopard stands above many other watchmakers by manufacturing its own movements for use in women's Chopard watches and men's Chopard watches of all varieties. Chopard produces a wide range of men's watches and women's watches in both quartz and automatic mechanical watch styles. Chopard's luxury watches are fantastic investment timepieces.
All about Chopard Watches:

Chopard partnerships: Chopard often partners with other companies to host events like the Mille Miglia road rally, a partnership that began in 1988. Chopard also has a line of Millie Miglia watches, inspired by the race. The Chopard Watch Company started working with the Cannes Film Festival in 1998 to market its watches to high-end clientele.

Watch models: Chopard watches come in many styles and varieties, including quartz and mechanical wristwatches. Chopard also designs luxury watches with precious gems and metals, men's watches and women's watches with a wide variety of functions and classically styled sports watches. Luxury Chopard watches under the L.U.C. label are the epitome of fine wristwatches. They include artistic and engineering advances to impress even the most experienced watch collectors. Chopard also has a line of watches designed by Elton John, which celebrates ten years of Chopard's support for the Elton John AIDS Foundation.

Sports watches: Chopard arrived late in delivering its line of sports watches, compared to its competitors, but arrived with a splash. In 1980, the company introduced its variety of carefully crafted sports watches on leather straps. The Happy Sport collection debuted in 1993, bring a new style of men's Chopard watches and women's Chopard watches to the market.

Men's watches: Chopard produces distinctly styled men's watches. The men's Mille Miglia automatic chronograph model features an in-house 3009 movement with a steel case, black rubber bracelet and a 44-mm silver dial. The men's L.U.C. dual-time automatic model is a classically designed luxury Chopard watch with vintage styling and unusual case dimensions of 29 mm wide and 55 mm long.

Women's watches: The ladies' Your Hour model showcases modern feminine design with gold cases, baguette diamonds, large diamond-studded dials and luxury leather and crocodile bracelets. The quartz-powered ladies' La Strada is a luxury watch with various features, including 18-karat yellow gold cases, 23-mm white dials and 18-karat gold bracelets.

Buy Women's Chopard Watches
Buy Men's Chopard Watches
Back to Guides Directory