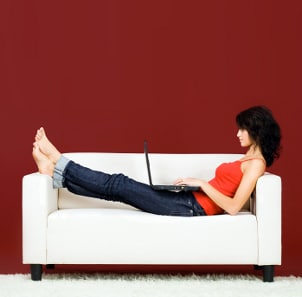 Be prepared for college with a computer you can rely on for homework and everything else. A scholar's workload -- and student-life in general -- demands a lot from your laptop. These tips will help you identify the features that matter to students, so you can select a laptop that will stand up to the school year's demands.
Start College with the Right Laptop:

Get a more powerful laptop if your major requires it. If your degree will focus on learning to use some specific pieces of software, such as with graphic design, you'll want a laptop that lets you run your own copy of that software, so you're not always stuck using the lab computers. Computer science majors will rely on a laptop more than anyone else on campus, so spare no expense if this is your chosen course of study. Engineering and math majors may want to run modeling and simulation software, which are taxing on a computer, so plan accordingly. Dual core processors are the norm these days; for extra power for demanding applications, look for quad core processors. For the casual user, 1 GB of memory is sufficient, but you'll want to upgrade to 2 GB or higher if you plan to place high demands on your laptop.

Anticipate the necessary storage for your homework. A few hundred gigabytes (GB) of hard drive storage is enough to store text files, with room left over for plenty of digital music. Video and photo files can use up hard drive space quickly, though. If your course of study requires you to store a lot of images and video clips -- like graphic design or video production -- you'll want 500 GB or even a terabyte (TB) of space.

Find a balance between size and convenience. For most students, the way the monitor looks is the most important thing. A 17-inch screen gives you a large display, great for watching movies as well as looking at multiple windows at once. However, a laptop this large may not leave much elbow room on a typical classroom desk, so you'll need to decide if that's important to you.

Make sure it has Wi-Fi. Wi-Fi hotspots are commonplace, especially around college campuses, so you'll want to be able to get on the network whether you're in the classroom, the dorm or the quad. If your laptop doesn't have built-in Wi-Fi, you can still get a wireless adapter that plugs into your laptop and lets you get online. There are USB Wi-Fi adapters that are quite small and convenient; these are a good choice for netbooks and other small laptops that don't have built-in Wi-Fi. If your laptop has a PC card slot (also called a PCMCIA card slot), you might opt for a wireless adapter that fits there.

Wi-Fi is an umbrella term for the wireless standards 802.11a, 802.11b, 802.11g and 802.11n. Currently, 802.11n is the newest and fastest of the standards. But as long as your wireless adapter is built around one or more of these standards or it has the Wi-Fi logo on its packaging, you can expect it to work with any Wi-Fi hotspot you come across.

Leave room for a little bit of fun, too. Not all of your back-to-school plans need to center on academics. Your notebook can double as a compact dorm-room entertainment center if it has the right features. A 15-inch screen would be enough for watching a movie by yourself or with a friend. An HDMI-out port will let you send video from your computer's DVD or Blu-ray drive to a larger HDTV.

Buy Laptops
Back to Guides Directory