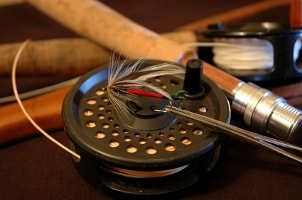 Of all the different kinds of fishing reels, fly-fishing reels feature the most basic design: a simple spool on a hub, which is much less complicated than the spindles and catches of other fishing reels. Nevertheless, fly-fishing gear suppliers have been refining and tweaking this design for years and years, to the point that, nowadays, there are hundreds of different fly-fishing reels on the market. On the one hand, this is a great thing. It means that there's sure to be a fly reel just right for every different kind of fly fisherman. On the other hand, it can make choosing fly-fishing reels, especially if you're new to the sport, a daunting task. However, a little patience and information can ensure that you find a fly reel that's just right for your level of experience and the kind of fly-fishing you like best.
How to Choose a Fly-fishing Reel:

Select the correct fly-fishing reel weight: The first rule of choosing the right fly reel is making sure that the weight of your reel matches the weight of your line and your pole. If you have a 4-weight fishing rod, then you want to make sure you have 4-weight line and a 4-weight reel. While these weights do correspond somewhat to actual size and strength, the weight of a rod and the line and reel has more to do with flexibility, and choosing corresponding weights will ensure that your rod and reel setup casts your line smoothly.

Learn about different fly-fishing reel drags: The earliest fly-fishing reels used a spring-and-pawl system to create drag on the fishing line. Spring-and-pawl systems use a simple mechanical setup to create steady drag as you (or a fish) pull out fishing line, and they work reliably and well, especially when fishing for trout and smaller fish. Disc-drag reels create drag by having two discs rub together. Disc-drag reels are adjustable and, nowadays, are often less expensive than spring-and-pawl reels, so it's not much of a surprise that they have become the reel of choice for many fly fisherman.

Understand the different fly-fishing reel retrieval systems: The majority of fly reels have simple one-to-one retrieval systems. In plain speak, that means when you turn the reel once, it pulls in one rotation of line. However, some fly reels, especially ones designed for saltwater fishing, have retrieval systems that feature a system of gears to allow you to reel in line more quickly than you're actually turning the spool. While these reels are useful under certain circumstances, a simple one-to-one reel is adequate for most fly-fishing.

Consider buying spare fly-fishing reel spools: Many times, matching the fly-fishing gear you're using to the conditions you're facing will make the difference between a basket full of fish and cast after cast of nothing. A few extra spools for your fly reel will let you change the kind of line you're using -- weight forward, sinking tip, double taper -- to suit the conditions you run across. It's often wise to buy extra spools at the same time you buy your fly-fishing reel, since a couple years down the road, the model you purchased may no longer be manufactured.

Buy Fishing Reels
Back to Guides Directory