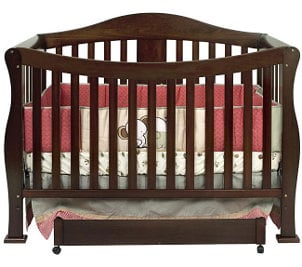 Getting ready for the arrival of a new baby is part of the fun of having children. Once you start shopping for baby cribs, you'll find there are a ton of choices. Don't be overwhelmed! Choosing a crib doesn't have to be hard if you're familiar with baby furniture styles and know what you're looking for.
Choosing a Baby Crib:

Get familiar with the different styles of baby furniture. There are almost as many styles of baby furniture as there are babies. Not really, but you get the idea. There are convertible beds, sleigh-style cribs, wooden cribs, metal cribs, fixed gate cribs and even round cribs.

Decide what you like. Do you prefer dark woods and simple lines? Look for a traditional-style crib. If it's light woods and carved details you crave, then look to modern baby furniture for your nursery. For a sleek look, make a metal crib the centerpiece of your baby's room.

Remember the details. Once you've chosen the basic color scheme and style, it's time to focus on features. A basic crib is perfectly acceptable as baby's first bed; don't feel pressured into purchasing features you don't need. A convertible crib is one that can be reassembled into a toddler bed. Some beds can be further converted to serve as a day bed. If that seems like more crib than you need, then consider a platform crib: The drawers slide under the bed and provide extra storage space for your baby's belongings.

Choose a crib design. Deciding what style of crib is best is a matter of personal choice. Sleigh-style beds mirror their larger counterparts by featuring a back that's higher than the front and gently curved sides. Convertible cribs usually have a backboard more ornate than the front since it will become the headboard when converted to a toddler bed. Mission-style cribs tend to be symmetrical and simple.

Think about safety. For safety's sake the slats on a crib should be no more than 2 3/8 inches apart; this is required by law on new cribs made in the United States and Canada. When you assemble the crib, make sure to set the mattress at the appropriate height. As your child gets older, the mattress can be lowered to prevent climbing or tumbling over the rails. Make sure the mattress fits snugly within the crib frame to prevent a baby's arms and legs from getting trapped. Be wary of decorative cutouts if they leave room for a baby to get stuck and consider the probability of lead-based paint if you're looking into a vintage crib. You will also want to avoid drop-down cribs because they pose a serious threat to your baby and were banned by the U.S. Consumer Product Safety Commission.

Buy Cribs
Back to Guides Directory