by S. L. Edwards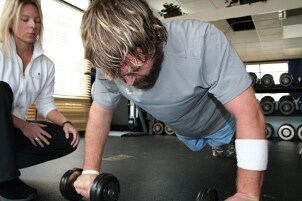 As a worldwide leader in the study of corrective exercise and kinesiology, the C.H.E.K Institute provides expert, innovative education and training to healthcare and fitness professionals, athletes and anyone else interested in achieving high-performance conditioning and a holistic approach to fitness, health and wellness. If attaining optimal fitness is one of your goals, you'll want to know more about the C.H.E.K Institute.
What You Need to Know:

Foundations: The C.H.E.K Institute's educational emphasis can be found in its name: C.H.E.K is an acronym for Corrective Holistic Exercise Kinesiology, but it is also the surname of Paul Chek, the organization's founder. Paul Chek developed his whole-body approach to physical fitness during his 25 years as an expert holistic health practitioner. Through his popular lectures, books and training courses, he continues to influence the field with his revolutionary approach. Anyone who is interested in learning more about holistic fitness should explore the C.H.E.K. Institute's website for more information.

Training and influence: The C.H.E.K Institute is based in California, yet it attracts clients from many countries. The C.H.E.K Institute offers many educational programs that incorporate their scientifically based methods, including seminars, multiple DVD correspondence courses, books, audio programs and advanced training designed especially for fitness and healthcare professionals. C.H.E.K-trained professionals, from personal trainers to physical therapists, are known in the industry for their expertise, and their clients reap the benefits when these fitness mentors design individualized treatments based on Paul Chek's performance-enhancing techniques. The C.H.E.K. Institute also provides consultation services for gyms and health clubs, sports teams and corporations interested in working these unique methods into their business and fitness programs.

Inspiration: The C.H.E.K Institute is a sponsor of programs like the Fit for Kili Climb, a program of the Challenged Athletes Foundation. The Challenged Athletes Foundation provides training and equipment to disabled individuals who want to reach their full potential as athletes. In January of 2010, a group of hikers trained by the Institute climbed Mount Kilimanjaro, the highest peak in Africa. One of the trekkers, Erica Davis, became the first female paraplegic athlete to make the climb. Penny Crozier, CEO of the C.H.E.K Institute, and Derek Gates, C.H.E.K marketing director, also participated in the inspirational trek.

Buy Sports and Fitness Equipment
Back to Guides Directory