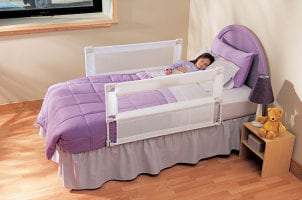 Transitioning from a crib to a kids' bed is an exciting time for both parents and toddler. A new toddler bed won't magically make your toddler sleep through the night, but it's an important step in growing up. Most toddler beds are in another room of the house sans parental supervision. Making sure the toddler bed is as safe as possible will make the move to a new bed an even more enjoyable experience. Going over this checklist for buying a toddler bed will help you pick a safe bed for your child.
Buying a Toddler Bed:

A toddler bed should be low to the ground. This will make it easier for a child to get up and down from his bed. Toddlers are learning to be independent, and the ability to get up and down themselves will give them confidence in themselves. Another reason the toddler bed should be low to the ground is the issue of balance. Toddlers tend to be slightly off-balance because most of their weight is in the top half of their body. Having a bed low to the ground decreases the chance for them to get hurt if they fall off. Even if it's low to the ground, it's a good idea to put a soft blanket or rug next to the bed in case of falls.

A toddler bed may need safety rails. To reduce the number of potential accidents, there's always the option of adding safety rails to the toddler bed. Pick toddler bed rails that can be attached and detached easily. As the parent, you then have the option of removing the safety bed rails as your toddler gets older.

Check for sharp or loose parts. Make sure all the parts work smoothly and fit together snugly. Go over the toddler bed and be on the lookout for sharp parts and loose connections that could pinch little fingers. As parents know, toddlers are very curious and will put their fingers just about anywhere. Wiggle the toddler bed to check for loose parts and tighten all the loose screws as needed. Be sure to perform regular maintenance on your toddler bed.

Check toddler beds for extra storage. Many toddler beds come with built-in drawers which can be quite convenient for you and your child. The drawers are perfect for keeping extra blankets and pillows or clothes. A toddler can keep his beloved toys and blankets close to him and have a handy place to put his things.

Choose a safe place for the toddler bed. Look for that "just right" place that's not too close to a cold window or hot heat vent. Make sure the bed fits snugly against the wall to eliminate the possibility of your toddler getting stuck between the wall and the mattress. Also, avoid putting the toddler bed next to any swinging doors. Taking these precautionary steps will go a long way towards preventing accidents.

Fill the toddler bed with familiar items. If you're transitioning your toddler from his crib to a toddler bed, be sure to include a favorite toy or blanket with the bed. If familiar things are included in the bed, it will seem like a more inviting place. If your toddler is still having a difficult time transitioning, then think about decorating your toddler's bed with sheets and bedding that features a favorite book or movie character to make it more fun.

Buy Kids' Beds
Back to Guides Directory