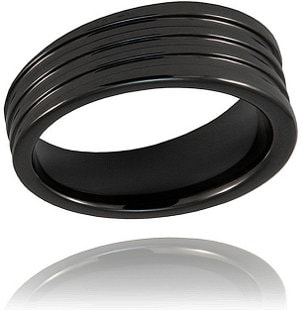 The art of looking good is all about creating a personal style with the latest updates in fashion. One of the best updates in recent fashion jewelry news is the growing popularity of ceramic jewelry. Fantastic ceramic accessories offer shine, color, design and up-to-the-minute style in men's and women's jewelry and watches. Ceramic jewelry may seem like an oxymoron, but it's actually a fabulous combination. Beautiful ceramic fine jewelry, designer jewelry and fashion jewelry is available in many different styles and price ranges. High-tech innovation meets fashion in ceramic jewelry. Use these tips to choose ceramic fine jewelry for your collection.
Buying Ceramic Jewelry:

Material: The material used in making contemporary ceramic jewelry is called titanium carbide (TiC), more commonly known as high-tech ceramic. This heat-resistant material has many industrial applications, including forming part of the shield on space shuttles. High-tech ceramic has several properties that make it attractive to jewelers and craftsmen, such as scratch resistance, durability and fade resistance. It is also lightweight, hypoallergenic and tarnish resistant.

Appearance: Ceramic jewelry can be elegant and sleek or bold and cutting edge in design. Ceramic's greatest decorative feature is its shine; when polished, it has a smooth, glossy finish. It also can be manufactured in almost any color imaginable. For a minimalist designer jewelry look, black and white are the most popular hues, and for those who prefer more color, bright and pastel colors are available, too.

Women's jewelry: Look for ceramic pendants, strands of smooth, colorful ceramic beads and simple black ceramic rings to spice up your jewelry collection. Women's watch bracelets in black, white or soft shades of pink have a sophisticated style that is perfect for a professional wardrobe. Pieces of artisan jewelry often incorporate recycled ceramic.

Men's jewelry: Modern men's rings are a specialty of ceramic jewelry. These ceramic rings often feature polished black bands and come in a range of designs and widths. There is sure to be a men's ceramic ring that fits any guy's style. Look for bracelets and chains that have an attractive combination of ceramic and metal links.
Ceramic Jewelry Tips:

A ceramic ring is a great option for the man who wants a modern update of the traditional men's wedding band. Ceramic jewelry offers many handsome designs in ceramic wedding bands, including black bands and two-tone bands crafted of ceramic and tungsten or steel.

Update your timepiece collection with contemporary ceramic watches. Watches with ceramic bracelets are increasingly popular; you will love the way these sleek designs blend with today's fashions. These timepieces often feature minimalist styles that emphasize the glossy finish and rich color of the ceramic. Choose the sophisticated look of a black or white bracelet or consider the many bright or pastel colors.

Buy Jewelry
Back to Guides Directory