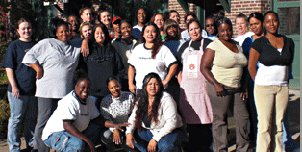 March is Women's History Month -- a time to celebrate the extraordinary accomplishments of smart, brave, and inspirational women. Take the time to learn more about important women who made a difference in the past, and then follow their examples by becoming more active in your own neighborhood. You can also honor Women's History Month by supporting women who continue to work hard to make life better for themselves, their families, and their communities.
Get Inspired by Women:

Learn more about history's best and brightest. Pick up a biography and read about one of history's greatest ladies and her fascinating life. Look for books about famous women involved in politics, business, the arts and sciences, and sports. Go back to ancient Egypt with Cleopatra or to the Civil War with Clara Barton.

Find your own voice. Research a cause you care about and get involved. A good place to start is at the local level, so check out this list of official state government websites. Most municipal governments, civic groups, and nonprofit organizations have websites, too, so you can sign up for newsletters and attend meetings to learn more about upcoming programs.

Support women who are transforming lives. Since 1989, the Women's Bean Project has been dedicated to breaking the cycle of poverty and unemployment through education and support. Women learn life skills while making gourmet food. Each product, created by the tireless hands of a participant in the nonprofit organization is made with the highest quality ingredients and the highest amount of care. Their delicious offerings include soups and chilies, dips and salsas, and sweets. As a partner with Women's Bean Project, our Worldstock Fair Trade Store sells a variety of their gourmet food baskets.

The Denver-based project has been changing lives for over 20 years. It's about more than savory bean soups, gooey brownies, and spicy salsas. It's about hope and transformation. What started with just two women and $500 worth of beans has grown to a $1.5 million operation. By learning basic job readiness skills, such as a positive attitude and reliability, Women's Bean Project graduates go on to lead successful and fulfilling lives.

Buy Fair Trade Gift Baskets
Back to Guides Directory