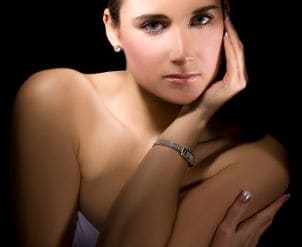 A sleek watch with clean lines and luxury styling is on the wish list of most schedule-conscious, fashionable people. Cartier watches, such as the Cartier Tank watch, are the perfect investment timepieces because of their classic style, durable construction and luxury materials. Cartier watches are extravagant, and the Cartier Tank allows you to put on a little opulence every day. If you are looking for an accurate watch that will last a lifetime, consider Cartier. Cartier has a history of making beautiful watches, and the Cartier Tank watch is their signature piece. The Tank watch is distinct and stylish and is the perfect watch for both men and women. If you are interested in adding a Cartier women's watch or Cartier men's watch to your collection, consider the Tank watch.
All about Cartier Tank Watches:

History: Cartier was founded in 1847 in a Parisian workshop. The company designed the first men's wristwatch in 1904 and created the Tank watch in 1917. The Cartier Tank is one of the most enduring styles from the Cartier brand, and more than 30 different varieties of Cartier Tank watches are available today. Antique Cartier women's watches and Cartier men's watches with the classic Tank style are popular collector's timepieces.

Design: The Cartier Tank watch hasn't changed much since Louis Cartier designed it in 1917. The watch was inspired by the war tanks used in World War I, with the crisp rectangular dial echoing industrial design and the unique straps made to look like large tank tire tracks. Cartier watches are commonly designed with gold or silver hues, and Tank watches with leather watchbands are also available. Many Cartier watches feature diamonds, gemstones and other luxury embellishments.

Production: Cartier Tank watches are designed to last and are made from quality materials and with time-tested techniques. Most Tank watches are made from stainless steel or gold, making them incredibly durable. Cartier also uses top-quality movements, and many Cartier Tanks are water resistant.

Features: Cartier proudly keeps up with timekeeping technology and offers many Tank watches with extra features. Automatic Cartier Tank watches are very convenient as they are wound automatically and do not require battery changes. Chronograph Tank watches are perfect for stylish runners and time-keeping enthusiasts with their separate second-hand dial.

Buy Cartier Watches
Back to Guides Directory