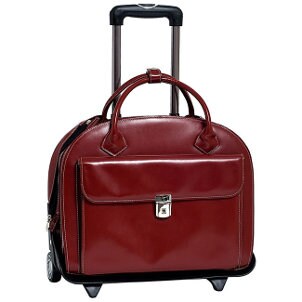 If you travel with your laptop a lot, your computer bag is essential. When you fly for business meetings or simply need to take your computer with you everywhere you go, a carry-on computer bag is even more important. Choose computer bags and laptop cases that will protect your laptop and meet TSA guidelines for carry-on luggage so you can keep your valuable data and electronics with you at all times. Follow these tips for a safe trip with your carry-on computer bag.
Tips on Carry-on Computer Bags:

Make them easy to identify. Your computer bag holds quite an investment; both the laptop and the data it holds can be very valuable, so you want to make sure your laptop cases are easy to identify. Attach an ID card with your name, phone number and mailing address to your laptop bags just in case you lose sight of them. That way, the airport's lost-and-found department can contact you if they find your lost carry-on. Tape a similar ID card to your laptop, too; if, for some reason, your computer and laptop backpack are separated, Lost-and-Found will still be able to make sure you get your belongings back.

Keep them secure. Securing your laptop bags is one of the best things you can do to protect your carry-on. Invest in TSA locks for your computer backpack and other carry-on luggage; these locks allow security officials to open and check your laptop backpack or computer bag and then close and lock it again. Always keep your laptop messenger bag in sight to avoid loss or accidental exchange. Never pack your laptop or computer bag in checked luggage; it's too valuable of an investment to lose sight of or to risk in the bumpy cargo hold of the plane.

Follow TSA guidelines. Always be sure to follow TSA weight and size limits for your computer backpack and other carry-on luggage. Most laptop messenger bags will meet these size and weight restrictions. If you need to carry more than your laptop and power cord in your computer messenger bag, such as USB drives, mini-mice, CDs or papers, remember to weigh the computer messenger bag to make sure it meets weight restrictions.

Buy Laptop Cases
Back to Guides Directory