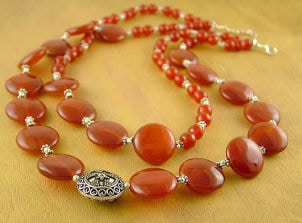 Ranging from glowing blood-red to deep burnt orange, carnelian jewelry has a rich and luxurious appearance. Carnelian is one of the birthstones for July, but beautiful pieces of carnelian jewelry can be worn in any season. Carnelian gems are commonly set into lavish pieces of jewelry, including brooches, earrings and necklaces. The gorgeous hues of this gemstone jewelry will enhance any ensemble and give your look plenty of color. Carnelian makes an impressive gift or perfect addition to practically any dressy or casual outfit.
All about Carnelian Jewelry:

Features: Carnelian gemstones are primarily mined in India and are available in a wide range of colors, including a myriad of red, orange and peach hues. Carnelian is as hard as glass and more durable than gold or silver, making it well-suited for use in jewelry. Carnelian is also hard enough to withstand engraving and carving. Many lovely pieces of carnelian jewelry are decorated with engraved beads and pendants.

History and folklore: Carnelian has a rich and colorful history. Ancient Greeks and Romans believed that this gemstone jewelry could drive away evil spirits and boost health and energy. Ancient Egyptians believed carnelian gems helped the dead cross into the afterlife. Carnelian is thought by some to calm fears of death and create feelings of serenity. Carnelian jewelry and artifacts have been found throughout the Mediterranean and specifically, on the Greek island of Crete. Some of these gemstone artifacts date back to 1800 B.C.

Jewelry choices: Carnelian jewelry is a wonderful choice for practically anyone because it is available in a wide range of prices and styles. You can choose a gorgeous gold ring with a large red carnelian gemstone and wear it every day or select an ornate orange carnelian pendant to bring out on special occasions. Carnelian is commonly carved into beads and intricate artwork. Carnelian beaded necklaces have a brilliant tropical style that is perfect for accessorizing a nice black dress or a simple, flowing white ensemble. Carnelian is beautifully complemented by other stones and gems in jewelry designs, including pearls, diamonds and onyx. Add a fashionable touch to your wardrobe with a bold carnelian cocktail ring featuring a floral design.

Buy Carnelian Jewelry
Back to Guides Directory