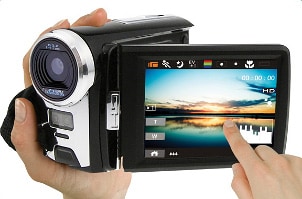 Whether you're an amateur, enthusiast or professional, creating your own custom videos and home movies can be fun and rewarding. Camcorders have many of the same features as regular cameras, but shopping for camcorders is a little different. This camcorder buying guide will help you learn how to buy the camcorder that best meets your requirements.
Buying a Camcorder:

Digital camcorders: Although VHS camcorders were the standard for quite a while, digital camcorders have all but replaced those magnetic tape cameras. Digital camcorders have also steadily declined in price in recent years. Most digital camcorders store video data on memory cards or other digital media. Memory cards are much more compact and can hold significantly more data than tapes.

DVD camcorders: Many digital video cameras use recordable optical discs, like Blu-ray or DVD, as the recording media. Each DVD camcorder has different disc compatibilities, so they may support rewriteable discs or not. A Blu-ray DVD camcorder will typically be able to burn to DVDs as well. Some of these camcorders will also include a hard disc drive (HDD) and may allow you to do some in-camera editing of your video before you burn it to the disc.

HD camcorders: Recording video in high-definition quality can take up more memory, but recording in such stunning detail is worth carrying an extra memory card or two. HD camcorders record video with a resolution of 720p, 1080p or higher; 1080p is the resolution that most HDTVs can display. If you want to know whether a camcorder can work as an HD video camera, check its maximum recording resolution.

Picture resolution: When you record video with a digital camcorder, the image is captured by a sensor, which converts the image to a digital format. The quality of the sensor plays a large role in determining the quality of your video. A digital video camera that can capture higher resolution images will produce clear, more-detailed video. To compare camcorder resolution, check a camcorder's maximum resolution for both video capture and still photos.

MiniDV cassettes: Some cameras use high-capacity DV (digital video) tapes, although everyday users will only use the MiniDV tape format. Other digital tapes are used in large, professional digital cameras. MiniDV cassettes are inexpensive but will only record about an hour of video at standard quality and up to 90 minutes at reduced quality. Video from MiniDV tapes takes longer to transfer to your computer for editing.

Memory cards: Digital memory cards, such as SD (Secure Digital) and SDHC (SD high-capacity) cards, are the most popular storage media for digital camcorders. SD cards can store up to 32 GB or more of video and still images. Memory cards are also very easy to swap out and store. You may need a memory card reader in order to transfer video from your digital video camera to your computer.

Hard drive: Some digital camcorders feature an internal hard drive with either solid state or spinning hard disk. You may also be able to use memory cards to expand the camera's memory. Camcorders with solid state drives are especially durable, since there is no spinning hard disk to get scratched or jolted.

Connections: Aside from the recording medium, cameras usually have some combination of video and data outputs for connecting to your TV, your computer or another video device. If you want to transfer video to your computer, consider a camcorder with either a Firewire or USB output. You may also be able to use standard A/V cables or even an HDMI cable to connect your camcorder to your HDTV or home theater receiver.

Digital zoom versus optical zoom: When it comes to determining the final quality of your video, the camcorder's zoom can play a surprisingly large role. Consider the effects that optical and digital zoom will have on your ability to film, especially when capturing distant objects in detail.

The Difference

Optical zoom focuses the lenses of the camera on a distant point with no loss in visual quality. Optical zoom actually refocuses the light, so the full sensor is still used to capture picture data.

Digital zoom, on the other hand, basically takes the image after it's been processed by the imager and enlarges it. This means that a smaller portion of the sensor is used as you zoom in. Digital camcorders may use image-enhancement software to add pixels and artificially improve the image quality of a zoomed picture.

Viewfinder: Nearly every consumer camcorder you see nowadays has an LCD viewfinder. Today's camcorders let you see what you're recording while being aware of your surroundings. An LCD viewfinder that swivels out of the way can protect itself from scratches and make it easier to film yourself.
Ideas from Overstock.com:

Once the video is on your computer, there's no limit to what you can do with it, from basic editing and adding effects to the video to composing your own soundtrack. If you're looking for some video editing software to get started, check out Overstock.com's selection of instructional software for video editing or movie studio software.

If you're going to record digital movies to Blu-ray, then you'll want to make sure you have the Blu-ray player and high-definition television to take advantage of your camcorder's HD video recordings.

Buy Camcorders
Back to Guides Directory