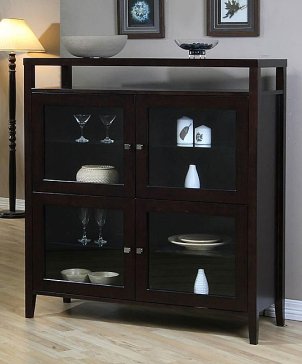 In addition to the built-in cabinets and fitments that came with your house, cabinets can be gorgeous free-standing showpieces suited to any number of rooms. In order to maximize the decor possibilities of this unique type of furniture, you will want to learn the basics. Consider your storage needs, including shelving, drawers and locks, and think about your personal style and the space available for your new cabinet. This cabinet buying guide should help you zero in on the ideal cabinet for your needs.
What You Need to Know:

Living room: The living room is one of the most used rooms in a home. This space exists for all sorts of purposes, from visiting with friends over the coffee table to kicking back in a recliner and watching TV. Because of this, cabinets can fill several roles in a living room. If you have a large book collection, there are few better places than a living room to store them. Find a spacious cabinet to hold your library and you will have easy access to your favorite novel whenever you're in the mood to relax on the sofa. If your choice of entertainment is music and movies, an adequate cabinet shelf has you covered. Select the right media cabinet for your DVDs and CDs and you will be able to tastefully hide it all away. A living room cabinet can also be a wonderful article of furniture to store extra throws and pillows for your couches, so you can easily switch them out as often as you please.

Bedroom: A bed shouldn't be the only major piece of bedroom furniture. Cabinets, whether or not you have a closet, are essential for "complete package" bedrooms. A cabinet, often called an armoire when in a bedroom, can add versatility and good looks to this space. The most obvious use is as a wardrobe armoire. Storage cabinets can provide several options for your clothes, including spaces to hang suits or evening gowns, plus drawers and shelves for socks or T-shirts. Of course, cabinets can add a bit of fun to your bedroom as well; consider spoiling yourself with an entertainment armoire to hold a new TV.

Dining room: Without a china cabinet, a dining room can feel empty and incomplete. Every good dining room deserves an excellent cabinet, sometimes called a buffet, credenza or sideboard. Coordinated with a dining room table, a cabinet can create a true feeling of elegance in your dining space. Besides beautifying your dining room, cabinets can also help store your fine china and silverware. Your regular kitchen closets and drawers are no place for these delicate objects. A quality cabinet will help protect and preserve your precious dining ware for years to come.

Bathroom: No bathroom should go without a proper cabinet. Having a useful bathroom cabinet is essential for everyday living. These practical furniture pieces hold everything from toothpaste and combs to first-aid supplies and medicine. Bathroom cabinets are produced in several types, so whether you plan to place a bathroom wall cabinet or medicine chest above the vanity or a bathroom storage cabinet on the floor, there's no need to worry. Just because bathroom cabinets are functional doesn't mean they can't be fashionable, too. Find a cabinet that suits the style of your bathroom and you'll enjoy the powerful double whammy of style and substance.

Home office: Many homeowners prefer to hide their computers in specially designed secretary desks and computer armoires. These are especially useful for securing computers when the home office is also a public area like a living room or when small, inquisitive fingers want to imitate their parents. And, of course, what would a home office be without a file cabinet? Short of storage space, that's what! These are available in tall and slender (vertical file cabinets) or low and wide (lateral file cabinets).

Buy Furniture
Back to Guides Directory