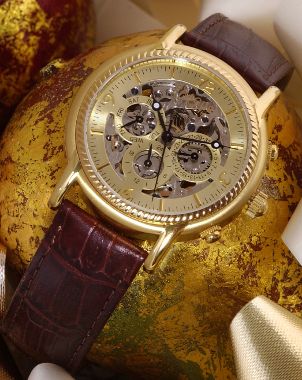 The Bulova watch traces its history to 1875, when Joseph Bulova began a watch-making career that blossomed into a multimillion-dollar company. The New York-based Bulova firm was a leader in design and quality movements. Women's Bulova watches and men's Bulova watches quickly became a favorite for their accuracy and style. Bulova's emphasis on marketing and early television advertising made it a household name through much of the 20th century. Bulova's Accutron watch was the first battery-operated quartz watch, and the Accutron launched watch-making into a new generation. In 2008, the Japan-based Citizen purchased Bulova for $247 million to become the largest watchmaker in the world.
All about Bulova:

History: During the early 20th century, Bulova produced desk and boudoir clocks and pocket watches. The company continued making clocks but switched to men's wristwatches during World War I, when the convenience of men's watches worn on the wrist was more widely realized. During the Great Depression, Bulova watches were offered on a payment plan. After World War II, the company established a watchmaker school for returning disabled veterans.

Early size and workmanship: Like most watchmakers before the mid-1950s, Bulova produced a line of men's watches that were typically square or rectangular, with a subsidiary second hand and Arabic numerals. Case backs were often goldplated, gold-filled or stainless steel. Bulova watches of the 1930s and 1940s generally had small dials, often measuring just 22 to 26 millimeters wide. Movements usually featured 17 or 21 jewels. Women's Bulova watches came on the scene in 1924, with a line of diamond-accented luxury wristwatches.

Features: American-made men's and women's watches of the pre-1950s shared similar movement characteristics. Bulova excelled in design, and its art deco-styled watches from the 1920s to the 1950s quickly became its signature style, with clean flowing lines, stepped ridges, black dials, art deco-style numerals and its Right Angle line, which tilted the watch on the wrist to the wearer's line of sight.

Contemporary models: Most modern women's and men's Bulova watches are quartz, although a few are offered with automatic or mechanical movements. The BVA series features a 21-jewel automatic mechanical movement, a clear case-back to display the movement, stainless steel case and a mineral glass crystal. Bulova's Caravelle collection features entry-level, inexpensive pieces.

Accutron function: Bulova helped usher in the quartz age by producing the Accutron in 1960. The Accutron watch uses a transistor, battery and tuning fork to replace the spring and balance wheel of traditional watches. These advanced watch parts produce a more accurate watch.

Buy Women's Bulova Watches
Back to Guides Directory