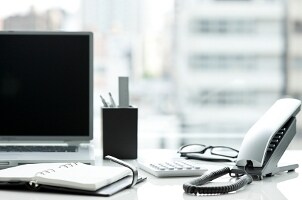 In an organized home or workplace, there's a place for everything. That axiom is especially true for your personal computer. Whether you primarily use a laptop with your wireless network or you work exclusively on your desktop computer, you can organize a space for your personal computer and accessories that will make it easier to use. Here are a few steps for creating an efficient, organized area for your desktop PC and other equipment.
Building a Computer Workspace:

Dedicate a work area for your computer workstation. If you haven't already, assign a space for your computer desk that gives you access to power outlets for your personal computer. If you're storing your desktop computer there, make sure there's enough storage space for your desktop PC tower, mouse, keyboards and computer monitors. Additional storage will help you store software, office supplies and computer accessories. Give yourself enough space for a comfortable chair as well.

Connect everything to a surge protector. A surge protector prevents minor fluctuations in the power grid from damaging your personal computer and other electronics. It also provides you with additional power outlets for multiple devices.

Adjust the level of your computer monitors. Use a monitor stand or wall mount to get your personal computer screen into a viewing position that's comfortable for your neck and shoulders. If you plan to use multiple computer monitors, you may want to choose a desk or wall mount that can accommodate multiple screens. You can also use a laptop docking station to charge your personal computer and lift the screen into a better position as you work.

Connect to your network. You can connect your personal computer to your home network and to the Internet with either a wired or wireless connection.

A wired connection will require that you run a network cable from your desktop PC to your modem.

If your personal computer is too far from your modem for a cable to be practical, you may want to install a wireless modem and connect your personal computer with a wireless adapter. The wireless option also allows you to use laptops and other wireless-capable devices on the network.

Add ergonomic computer accessories. Long hours at the computer can put strain on your body. Ergonomic accessories for your personal computer, like ergonomic keyboards, keyboard trays and wrist pads, can help reduce that strain.

Buy Electronics
Back to Guides Directory