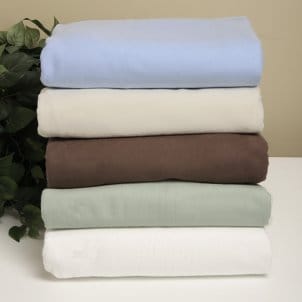 Cozy warmth and comfort often depends on a warm, soft blanket. From a quilted blanket on your bed to a throw blanket on your couch to a fleece blanket in your car, having a blanket at hand is your key to contentment. Having several blankets on hand is even better, but if you're trying to pick out the perfect one, it shouldn't have to be a chore. With the help of this blanket buying guide, you'll have no trouble deciding how to buy a blanket that you'll love.
What You Need to Know:

Down blankets: Like down comforters, down blankets are filled with goose down, duck down or down alternative for the allergy-prone. Down blankets are lighter and more breathable than down comforters, making them perfect for summer sleeping. If your duvet, quilt or comforter tends to be a little too warm during the summer months, consider replacing it with a down blanket. If you don't want to bother with dry cleaning, try to find a down blanket that's machine washable. Also, make sure the fill power -- a measurement of down density and warmth -- meets your temperature preferences. If you want a down blanket for year-round use, find something with a fill power of at least 550.

Quilted blankets: The layers of quilted blankets are sewn together in a patterned design, giving a classic country feeling to a bedroom. Densely layered fabric, as opposed to pockets of fluffy down, makes quilted blankets both a bit heavier and less baggy than down blankets. If you sleep better with the weight of substantial bedding, then a quilted blanket may be just what you're looking for.

Electric blankets: Electric blankets or warming blankets are just what the doctor ordered for the chronically cold person in your life. In areas where humidity and temperature guarantee sudden aches and chills, electric blankets can be lifesavers. You can also keep your heating bills low when you turn down the thermostat and sleep with an electric blanket. Modern electric blankets contain small, insulated wires sewn throughout the fabric. A component called a rheostat (also referred to as a variable resistor) regulates the heating elements, responding to room and body temperature to maintain a consistent comfort level. Large electric blankets designed for two sleepers have digital controllers for each side and can improve sleep amongst couples who want to share a bed without forfeiting comfort. Most modern electric blankets are machine-washable; just be sure to follow the manufacturer's care and safety instructions.

Buy Blankets
Back to Guides Directory