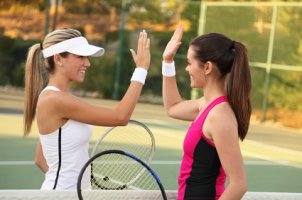 When you play tennis, you'll want sports apparel that is breathable and allows you to move uninhibitedly. Most sports apparel these days are made of synthetic fabrics like polyester. This and similar fabrics are lightweight and help wick moisture away from the body. Tennis might not require as much constant running as basketball or soccer, but by the time you get near the end of that second set, you'll be feeling the heat and grateful for lightweight, cool sports apparel. When it comes to athletic clothing for tennis, you have plenty of options. When you need sportswear or workout clothes to play tennis, here are the essentials.
Must Have Sports Apparel for Tennis:

Tennis shorts: Tennis shorts are basic athletic shorts with elastic waistbands. Don't worry; they don't have to be as short as most old pro tennis players wore them. When you are picking out sports clothing for tennis, make sure to pick out shorts that will dry quickly. Get a lightweight pair of tennis shorts so you aren't distracted by your heavy shorts during a match. Remember, lightweight is the word when you shop for tennis sports apparel.

Tennis shirts: The typical tennis shirts are designed like a T-shirt but often have special ventilation sections. Tennis shirts should be loose enough to allow you full arm rotation. Some women's tennis shirts will feature built-in sports bras and sleeveless designs; these should have a tighter fit.

Tennis skirts and skorts: If you want to look like a pro, pick up some tennis skirts instead of shorts. Your legs need to be able to fully extend, so get tennis skirts in a supple material and make sure they aren't so long that they limit movement. You can also find tennis skorts, which combine the convenience of shorts with the professional look of a skirt.

Tennis dresses: Like tennis skirts, tennis dresses should be quite flexible. Most have built-in sports bras and are sleeveless to allow full arm movement. Other types of sports apparel are more popular for tennis, but tennis dresses are still a great choice.

Tennis hat: If you like to wear a hat while you play tennis, make sure the brim isn't too long or too wide. You want tennis apparel to help your game, not impede your line of sight. A tennis hat can help block the sun, just be sure you can still see the ball, even on a high lob.

Buy Athletic Clothing
Back to Guides Directory