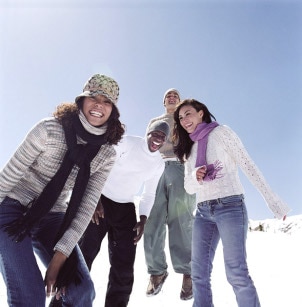 Spice up the winter holidays this year with gift baskets. Gift baskets allow you to give your teen a whole pile of gifts in one delightful and artistic package. Whether you want to surprise your daughter with something more meaningful than a sweater this year or you want to show your nephew how much you appreciate his individuality, holiday gift baskets are ideal. These winter holiday gift baskets will impress any teenager in your life.
Winter Holiday Gift Basket Ideas:

Food: Teenagers love food. Fill a holiday gift basket with all your teen's favorites. Start with a theme for the gift. Will you include savory items or just sweet treats? Is your teen into health food or does she love to indulge in a bit of junk food around the holidays? Gourmet foods and hard-to-find treats will impress any winter holiday gift basket recipient.

Creativity: The gift of creativity is going to be popular this year for the winter holidays. If your daughter has been eyeing hip knitted arm warmers, winter hats, cup cozies and home decor, then give her a holiday gift that will allow her to make her own clothing and accessories. A Christmas gift basket filled with yarn, knitting books and everything else she needs to get started will be very welcome. If your stepson loves to draw, a holiday gift basket overflowing with paper, pencils and other art accessories is the perfect way to show that you appreciate his talents.

Music: Center a Christmas gift basket around your son's favorite band and you'll really be the holiday hero. Start with CDs or an MP3 player and add posters, T-shirts, books and concert DVDs. Showing your teens how well you know their music preferences is a wonderful way to celebrate the winter holidays.

Outfits: Rather than giving boring socks and embarrassing underwear, surprise your teen with a clothing gift basket. Purchase jeans, shirts, sweaters, shoes and outerwear from their favorite designers and add jewelry, winter accessories and watches to the mix to create one complete new outfit that will really impress friends when school is back in session.

Buy Gift Baskets
Back to Guides Directory