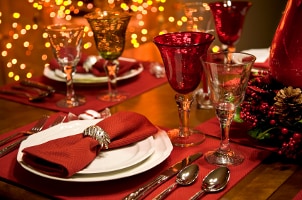 Welcome your friends and family to your home this holiday season with delicious food, wine and desserts. Choosing wines for your holiday party is an important task. Whether you are serving a three-course sit-down meal for your family or preparing hors d'oeuvres for a friendly cocktail party, great holiday wine can really make the event. Don't feel overwhelmed by the task of choosing holiday wine for your get-together. This guide will help you get started and will give you confidence in your choices.
Wines for Every Holiday Party:

Popular wines: Trying new wine is fun, but there are a few wine staples that almost everyone enjoys. Blush wine is very popular, and it goes with a variety of foods. Add a beautiful white zinfandel to your holiday wine collection. Chardonnay is also popular because it is usually quite light and fruity. Of course, you can't go wrong with sparkling wines this time of year.

Wines that match the food: Think about the food you are serving at your holiday party and offer wines that will complement the flavors. Rich and spicy foods usually go best with red wines, while light and subtly flavored foods usually go best with white wines.

Dessert wines: Your holiday party likely includes dessert. Serve dessert wine with your famous holiday torte at a sit-down dinner. If you love dessert, consider throwing an all-dessert cocktail party. Some tasty dessert wines will go well with your mini cheesecakes, brownie bites, tiny cookies and handcrafted truffles.

Seasonal wines: This is the perfect time of year to try seasonal wines. Some holiday wines are accented with favorite seasonal flavors. Spiced wine is fun and cozy for any winter evening. Mead is a great option for a holiday party. Mead is wine made with honey, and it has ancient historical roots. Impress your guests with a holiday wine or mead that is perfectly matched to your winter foods.

Your favorite wines: You can't go wrong with a wine that you love. You may have wine leftover after your holiday party, so make sure it is wine that you'll enjoy drinking before it goes bad. When you enjoy yourself at your own party, your guests will be more comfortable and have a better time.

Buy Wine
Back to Guides Directory