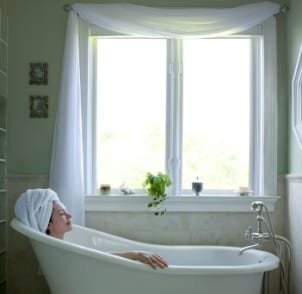 To avoid putting on a show each time you step into the shower, the best plan is to find a stylish way to cover your windows. When choosing bathroom window treatments, you may want to keep a couple of practical considerations in mind. Unlike other rooms in the house, the bathroom windows present special challenges concerning privacy and humidity. The best window decor ideas for bathrooms are those that provide sufficient privacy and can withstand moisture from steamy showers and baths.
Bathroom Window Decor:

Faux wood blinds: If you like the look of wood blinds but you don't want the wood to warp in the humid conditions of a bathroom, faux wood blinds are an excellent alternative. They provide privacy and look streamlined enough to go with any existing bathroom decor. To add more style to plain blinds, hang a valance, scarf or pair of curtains over the blinds.

Swag and cascade: A swag-and-cascade style is a good choice for formal bathrooms. Swag-and-cascade drapes generally consist of three pieces: two cascades that hang from the sides of the window and a central swag that hangs in a half circle between the cascades. Often, these hook over the curtain rod, leaving none of the rod visible. For more privacy, hang this drapery style over blinds.

Valance: A simple valance is a good choice for bathrooms with one or two small windows that are situated up high and don't need to be fully covered. There are many different types and styles of valances, but ultimately the best valance for a bathroom is a single topper that covers only a minimal amount of the top part of the window. It gives just enough decoration to the bathroom without overwhelming small windows and blocking sunlight.

Scarves: Scarves are a quick way to create a serene feel in a bathroom. Standard scarves are 6 feet in length, which can overwhelm a small window, so it is important to check the size of a scarf before purchasing. A 3- or 4-foot scarf will give you enough room to decorate without having too much extra fabric, which can make your covering look bulky.

Buy Window Treatments
Back to Guides Directory