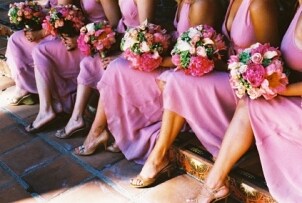 Deciding on your wedding colors is one of the most fun and creative parts of wedding planning. If you're planning a summer wedding, the sky is the limit in terms of color options. Anything goes nowadays, even formerly "wintery" colors, such as navy blue and black. The key is in pairing up the perfect combinations of colors. If you're looking for a little inspiration, take a look our 10 best wedding colors -- and color combinations -- for a beautiful summer wedding.
The Best Wedding Colors:

Papaya and olive. These colors work great for creating a tropical vibe, bringing a fresh perspective to a common theme. You can even work it into the food: How about papaya cocktails and stuffed olives? Use an olive palm motif for the invitations and go with colorful tropical flowers and fruits for table decorations. Khaki suits for the guys -- with papaya ties, of course -- look cooler and more beach-worthy than ordinary black or navy.

Red and swimming pool blue. The combination of candy apple red and aqua make for a retro or clean-modern look. Try choosing a simple red graphic motif, such as a red dahlia, to carry throughout your decor from the invitations to the centerpieces. The cool blue works great for bridesmaid dresses, paired with coral red accessories. Groomsmen will look sharp in white suits with red or blue ties and boutonnieres. Of course, these colors work great for a water-themed event, too, pulling in oceanic touches with red coral jewelry and blue glass pebbles on tables.

Fuchsia and navy. Will you be tying the knot on a boat or beachside? Preppy fuchsia and navy blue pair up perfectly to create a nautical theme: Think stripes, rope and bright white, crisp linens and stationery. Bold fuchsia bridesmaid dresses and matching men's ties will stand out against navy suits and sashes. A few pale pink orchids and peonies add just the right amount of softness for contrast, and silver serving ware provides an excellent, polished backdrop.

Mustard, black and white. Mustard yellow brightens classic black and white, lending a playful, fun-loving air to the dramatic duo. The key here is contrast; the spicy yellow will pop against crisp black and white. Go with lemon cocktails, bright orange poppies for table centerpieces and yellow ranunculus for bridesmaids to carry. Contrast these pops of orange and yellow with graphic black-and-white patterns and simple, bold designs for tableware, stationery and decorations.

Pink. In all its glorious shades and hues, pink is a summer wedding staple, and for good reason. It pairs well with almost any other color, whether you choose sherbet hues of soft pink and orange, bold magenta with grey or the always lovely combination of pink and brown. For variety in your wedding color scheme, try bringing in several shades of pink, from palest rose to deep magenta, which is easy to do with floral arrangements, as flowers come in many shades of pink.

Buy Wedding Planning Supplies
Back to Guides Directory