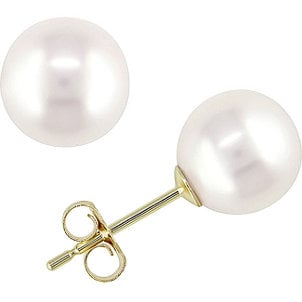 Pearl earrings are a classic staple in most women's wardrobes because they can flawlessly take any woman from a work day to a dinner out on the town. If you've never tried pearl earrings, perhaps now is the time to try them. Here are great tips on how to wear these beautiful pieces of jewelry.
Wearing Pearl Earrings:

Choose a style that will work for you for many years. Pearl earrings have been consistently worn and fashionable for decades, and women of all ages can find pearl jewelry complementary to their skin tone and fashion sense. Pearl earrings come in all shapes and sizes, from basic studs to beautiful chandeliers. They can be easily worn with a T-shirt and jeans or worn glamorously with a cocktail dress. Pearl earrings are a basic staple in any jewelry wardrobe and should remain so for years. Investing in a pair would take you through many seasons of fashions and fads while maintaining a classic look.

Pearl earrings blend beautifully with most business attire, and the classiest way to wear them in a business atmosphere is to match your pearls to your outfit. If you are wearing pink pearls, wear a complementarily shaded pink blouse or a dark suit with a pink pinstripe in it. Some pearl earrings come in a cluster of colors, like green, pink and brown, and a pretty floral blouse or skirt would match this style beautifully.

Pearl stud earrings also complement everyday clothing, such as a simple skirt or jeans. Pearls instantly give a little glamour to basic clothes, which is why a lot of women really love them. Once again, it's nice to match but not always necessary. Small, white pearl studs are classic and match just about any outfit, yet the darker colors can be really beautiful, too.

Pearl earrings are most typically worn with evening wear, from a basic little black dress to a floor length gown. With evening wear, it is not always necessary to match your pearl jewelry, although this is still a simple and classy option. For evening, cultured white pearls, black Tahitian pearls or golden South Sea pearls are the most luxurious options, especially when they are set in 18-karat gold and accented with diamonds.

Buy Pearl Earrings
Back to Guides Directory