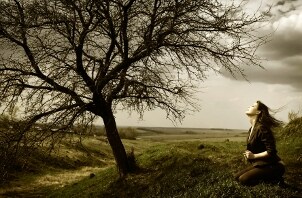 Cultural jewelry is always fun; accessorizing with earrings, bracelets, rings and necklaces from another land and time is incredibly romantic. Whether you have personal ties to Irish culture, have recently had a fabulous Celtic vacation or you just love the look of Irish jewelry, Celtic earrings are the perfect way to bring the beauty of the green isle to your jewelry wardrobe. Celtic earrings and Irish jewelry can be intricate, simple or religious. You can even find Irish earrings embellished with precious gemstones. Indulge in a pair of Irish earrings for your jewelry collection and wear Celtic jewelry stylishly with our tips.
Wearing Celtic Earrings:

To work: You can wear Celtic jewelry to work with a bit of balancing and subtlety. Dainty, versatile, silver Celtic earrings go well with business attire. Choose accompanying accessories carefully when wearing large, ornate earrings to work. A simple ring and silver chain necklace keep your beautiful Irish earrings front and center and help you avoid looking too dressy.

Day off: Your day off is the perfect time to indulge in your favorite Celtic jewelry. Intricate religious Irish earrings go perfectly with casual pants, comfortable jeans and feminine skirts. Wear your favorite long skirt and tank top to Sunday brunch with a pair of gorgeous dangling silver Claddagh earrings. Your weekend jeans and T-shirt uniform can easily be more unique with a pair of nice Celtic stud earrings.

Night out: Celtic earrings are easily dressy and extravagant. Gemstone Irish earrings add a lot of sparkle to a nice dress or fancy top. Wear your feminine gold Irish earrings on a date with your best black trousers and a flirty lace shirt. Irish earrings can accessorize a nice gown, especially when the jewelry is covered in diamonds or emeralds. Try a pair of large Irish earrings the next time you are getting ready to hit the town. Pair Irish earrings with a nice black dress and add layers of bangles or long necklaces to grab attention at a party or nightclub.

Buy Earrings
Back to Guides Directory