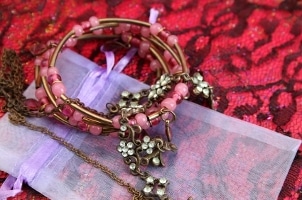 Copper jewelry has a certain mystique. Copper is eye-catching and interesting with its gorgeous brown, shining appearance. Copper bracelets can be feminine or masculine or entirely unisex. Fitting this fun and beautiful jewelry style into your fashion routine is simple when you think in terms of fantasy and dress-up. You can wear copper bracelets with many pieces of clothing and jewelry in your wardrobe. Copper cuff bracelets, copper bangles, copper link bracelets and other pieces of copper jewelry are romantic and will spice up anything you wear. Consult our tips to construct a great look around your copper jewelry pieces, such as copper bangles, copper cuffs and other bracelets.
Wearing Copper Bracelets:

Amazonian: Copper bracelets are well-suited for the native look of an Amazonian warrior. To create this style, wear a thick, rough-edged copper cuff bracelet with a shift dress or a flowing skirt in a neutral shade and add leather accessories and a necklace or pair of earrings in a bright hue. A bicep copper cuff is also a great Amazonian-style choice. Complete the look with a few braids in your hair and some nature-themed accessories.

Explorer: Many pieces of copper jewelry have a "recently discovered" feel and can put you in touch with your inner anthropologist. To create an explorer style, pair copper bracelets with khakis or worn jeans and add a crisp white shirt and create a classic messy hairstyle. Wear copper link bracelets with cuffs and bangles for a fun, textured look.

Goddess: Copper is a shiny, luxurious metal with an ancient vibe. When dressing up with copper, consider the look of a Roman or Greek goddess. To achieve this look, wear a feminine, floral copper bracelet with a long flowing gown or simple summer dress and add vintage sandals and gold or silver earrings, necklaces or hair accessories. Copper cuff bracelets and copper link bracelets are both good choices for the goddess look.

Buy Copper Bracelets
Back to Guides Directory