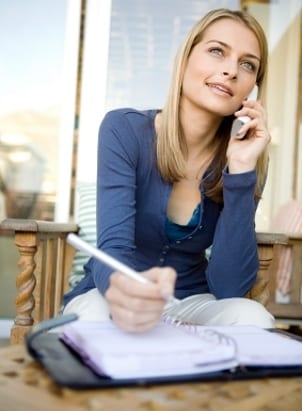 Getting things done is largely a matter of getting yourself organized and having a plan. You can increase your success in time management by keeping track of everything in a day planner. Organizers and planners have several features that help you keep track of every day, week and month. Day planners also provide you with a record to keep track of your goals and plan future projects. Here are some of the best ways to use your day planner to get organized and get things done.
Using Your Day Planner:

To-do lists: Keep a running list of things you want to accomplish in your day planner. Separate them into categories and prioritize each one. To-do lists can act as a pool of tasks that you can pull from. Slip those tasks into days where you have time, starting with the high-priority items, and group like tasks together for efficiency. Your daily planner can include several lists that you refresh regularly.

Daily action plans: Time management with your daily planner is easier if you estimate the time it takes to do each task and to travel while doing errands. Be careful to give yourself plenty of time for each task. Remember, you have that to-do list in your planner to fill in when you have extra time. Put a check next to each task you accomplish and check your day planner each week to see your success rate.

Make long-term plans: Certain things need to be set in stone beforehand. Use weekly planner pages to get a long view of your goals for the week and month. If you have important family events or work deadlines, write them in advance. Include reminders in your planner every week or two weeks to check the progress you've made preparing for those dates.

Leave extra time in your day: Leave an extra block in your day planner each day. This provides you a little flexibility for unexpected events, which obviously won't be in your planner. Scheduling extra time in your day planner is like adding oil to an engine: it keeps things running smoothly.

Don't exclude yourself: The whole point of having a day planner is to make your life easier. Make time for yourself in your planner. Schedule time for relaxation, exercise and entertainment. If you can't find time to take care of yourself, some of the tasks in your day planner may need to be re-prioritized.

Buy Day Planners
Back to Guides Directory