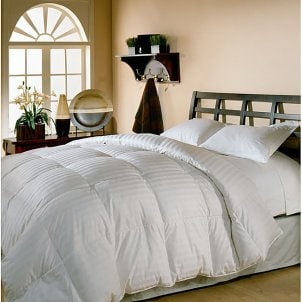 Bedding can be bulky and inconvenient to store, especially if you have several sheet sets and blankets for multiple beds in the house. If you have a linen closet, it can be difficult to keep organized. If you don't have a linen closet, storing bedding can be even more of a headache. Keep your sheets and comforters organized and out of the way by storing bedding correctly and efficiently. Look below to learn the best ways to store bedding.
Storing Bedding:

Linen closet: If you have a linen closet with enough room to store all of your bedding, consider yourself lucky. Bunching all of your linens into the closet is probably the quickest way to fit them all in, but it is unsightly and will cost you valuable time searching for the right pillowcases to match the fitted sheet. Instead of jamming everything in, use decorative boxes to place each type of bedding into categories. If you have different-sized sheets for each bed in the house, separate each size into its own storage box. Label the storage boxes by size, like "queen," "king" and "full," or by room, like "guest room" and "master bedroom." This way, you don't have to root around looking for which pillowcase matches with which top sheet every time you change the bedding.

Bedroom closet: For those who don't have the luxury of a closet devoted entirely to linens, bedding can be stored in its respective bedroom closet. For instance, if the spare bedroom has a full bed, place all full bed sheets that you use in that room's closet. If you have limited space in the closet, save room by vacuum-sealing your bedding, especially in spare or guest bedrooms that you may not use as often. Purchase bags that work with your vacuum to remove all air from the bag and flatten them for easy storage. Stack these bags on a top shelf or against the side of your closet.

Without closets: For individuals who live in smaller apartments or homes that do not have closet space for linens, hiding all that extra bedding can be more complicated. Instead of piling the linens up in the corner of the room, carefully fold them into a trunk or chest that can act as a decorative piece. Vacuum-packed bags flatten even the puffiest comforters into a manageable size that can be stacked under beds. It can be inconvenient to remove and then vacuum-seal bedding again every time you wash it, so these bags work best when you are not going to be using the bedding again for at least several months. Rather than stuffing the bedding onto a bookcase or attempting to keep it neat and tidy while stacked on top of the shelves, hide the linens inside canvas or fabric boxes with lids.

Buy Bedding
Back to Guides Directory