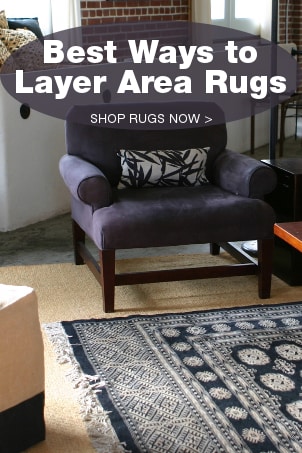 Layering area rugs is a trendy way to experiment with texture and color, but it can be tricky to master. When layering area rugs, it's important to find textures and colors that work in harmony with one another. This makes the layering look intentional and can add unique style to previously bland rooms. To get a layered look without making it seem like you simply have a pile of rugs stacked in your home, follow these tips.
Layering Area Rugs:

Find a color scheme. Layered area rugs look best when you mix two similarly colored rugs. The goal is to make the layered rugs look like one unit that flows on your floor and doesn't compete with furniture. Neutrals work well because they are easy to mix without overwhelming the room. For this reason, organic area rugs made from materials like sisal, jute, and or seagrass make good base layers.

Mix textures. The key to making layered rugs work is mixing textures. This will make your decorating look intentional and give the room depth. For example, if you use a sisal rug as a base layer, try putting a flokati rug on top. Your rugs should balance each other rather than compete for attention.

Don't forget proportions. Layering a tiny rug on top of a giant one will look slightly strange, so keep that in mind as you choose rugs to layer. The only time this look works is if you're laying a smaller rug over a larger rug that takes up the full space of a room. Generally look for rugs that are similar in proportion. It works well to have a large, neutral rug as the base layer and a slightly smaller patterned or textured rug on top of it.

Play with patterns. Re-mix a traditional look by making a patchwork pattern out of small oriental rugs. Layering several small rugs so that they are just barely overlapping gives you the look of one large, uniquely patterned area rug. Don't be afraid to mix patterns; just make sure that they have a common color scheme if you plan on using this style when decorating.

Play with shapes. Your base rug will most likely be a rectangle, but the accent rug you place on it doesn't have to be the same shape. Try layering a faux cowhide rug over a rectangle rug at the center of your living room to create a focal point under your coffee table.
What Do You Want to Do Next?

Shop Jute Rugs
Shop Wool Rugs
Shop All Area Rugs
See All Guides
Read More Home Guides
Learn More about Area Rugs